Meet North Point's Best Dance Crew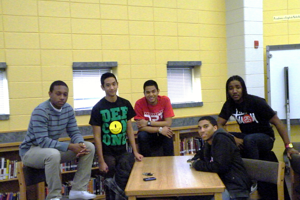 After watching the first season of the MTV smash hit, America's Best Dance Crew, Brisayon "Bryce" Watson , Anthony "Padilla" Padilla, and Paul "Paulford" Romero, came up with the idea of forming their own dance crew. Brian "B-ri" Garcia and Jhullian "JuJu" Garcia soon joined in, along with Kyrie "Ky" Davis.
With a variety of popping, breaking, and hip-hop, their theatrical performances won them the title of last year's competition,  North Point's Best Dance Crew.
  They first emerged at Coffeehouse 2009. After working on several routines and practicing for weeks, they were finally going to showcase their talent. "It was nerve wrecking," B-Ri ('10) described their first time on stage. "Not only did we have to work against our nerves, but our critics as well."
  Since then, We Defy has been performing at venues everywhere, from Sweet Sixteen birthday parties, to the county fair. At this year's Coffeehouse, they finished their act with an unforgettable reenactment of a scene from the Disney movie, The Lion King. "We wanted the last part of our performance to live up to our name," explains Bryce ('10), "we moved the mountain to show all of our dimensions."
  But We Defy is much more than a dance crew. They are a close group of friends that like to hang out and have fun. "Since I'm in culinary, I like to cook." says B-Ri. The group describes him as the caring one.
Juju is the youngest member of the group who enjoys reading, sleeping, skateboarding, and playing his keyboard.
Ky ('10) is the quiet one. He plays sports, watches sports and likes to donate and volunteer.
Anthony ('10) is the serious one but enjoys playing videogames such as Madden and Call of Duty, and also likes to make videos and music with his friends.
Bryce is the diva of the group, occasionally cancelling practice to do his hair.
Paulford is a junior at Westlake High School along with the recently added new member, Ryan Espeleta.
  They are a hard working group of individuals, often practicing twice a week for up to six hours.
 However, America's Best Dance Crew may not be a possible step for these guys. "If we don't spread apart, we would love to," says B-Ri who will be attending Towson in the Fall. But for this year's second Coffeehouse on April 31th and May 1st , expect a story to unfold across the stage.