Fashion Feature: Tiffaney Robinson ('13)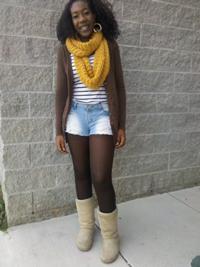 1. Tell us a bit about yourself.
"Dance is my life. I really like everything artsy like modeling, singing, dancing, acting, writing, painting, and in this case fashion."
2. How would you describe your style?
"It's basically very modern with a little bit of the old school taste. I like the outfits from Saved by the Bell and stores like H&M, Urban Outfitters, and Forever21."
3. Would you call yourself a fashion-ista? Why or why not?
"I wouldn't say a fashion-ista because I just wear what I like. It's just a way for me to express myself."

4. Where do you find inspiration?
"Celebrities like Beyonce and Rihanna. Also runway models and high-class store models."
5. How long does it take you to get ready?
"Not that long, probably about an hour."

6. How do you feel about make-up?
"I only wear a little of it. I feel like it should be more natural than flashy. I only wear a lot of make-up on special occasions like dances, fashion shows, etcetera."

7. Where is your favorite place to shop?
"H&M and Urban Outfitters."
8. When shopping, what is your guilty pleasure?
"Scarves and shoes!"
9. If someone asked you for fashion advice, what would you tell them?
"Just be yourself. Don't think 'Would other people like this?' Think about your personality and make your look unique and different."

10. What do you see in fashion in the future?
"A lot of color blocks and probably more unique and abstract looks."