A Budding Artist: Shilla May Castillo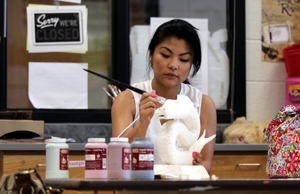 Anytime Shilla May Castillo picks up a pencil, clay, or a camera, one can only expect a master piece. Fluent in all three mediums of art, by the time the maestro is finished with her work she has teachers and student alike saying, "That is really good." Though skill and hard work is reflected in her pieces, it is her spontaneous personality that forms the roots of her creations.
Ever since she could remember, art was her niche. Whenever she was in the mood, Castillo used her free time to draw and sketch. Once she got to middle school, where she was fortunate to have a great art teacher, her love for art only grew, sprouting like a plant. Castillo chose to stick to it all three years. Since then, she has continued to improve her skills and ace her art classes. In her words, "Just getting that final grade on that paper with the 100% and seeing that A in the grade book is a big enough accomplishment."
Brainstorming comes first in Castillo's artistic process; sometimes the ideas gush forth like a river, while other times, it can be a mountain of challenge. Once the concept is solidified, the artist attacks the piece, boldly carving and completing every aspect of it. Once she is in the zone, nothing can stop her because she naturally knows what next to complete. There is no question in her mind when she is finished. "When I don't ask myself what should of, would of, or could have done because then I know I will actually be really satisfied with it," she said.
Art has always been a hobby for Castillo. It is a good means of concentration and relaxation at the same time. As a creative person, she prefers to be in an art studio than doing math in a grey workspace. Though college is right around the corner, she hopes to continue on with art- perhaps by taking art and ceramics classes here and there. For now, she does not plan on turning any new leaves, but simply adding more. Perchance, she may go into full bloom as an artist in the future.