The Build Up of Lacrosse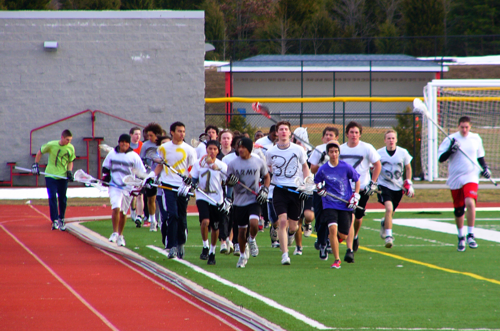 With plans of entering the SMAC conference next spring, North Point's lacrosse teams have a great deal of catch-up to play. In only its second year of conception, lacrosse is still a developing sport, where skill and public recognition continue to progress.
From last year's very first lacrosse clinics, to the staggering ninety students that showed up to tryouts this year, there is nothing stopping the "fastest game on two feet."
New players differ in both familiarity with the sport and athletic background. While most saw lacrosse as a new, fast paced game, others were more familiar with the sport. "Back in tenth grade I heard rumors about lacrosse starting in Charles County, but it wasn't until eleventh grade until it really started. I was really excited because back in my hometown of Glen Burnie, MD lacrosse was really big there," recalls returning senior Diamonte Spruill.
From soccer, football, softball, field hockey, and even volleyball, fine tuning their lacrosse skills will take some time. "There are a lot of skilled athletes from other sports on the team. Conditioning, physical fitness is not a problem. The problem is developing their skills to this sport. That's what we need to work on," explains Ms. Fair, head coach of the varsity girls' team.
Freshmen William Knight ('13) and Marcel Roberts ('13) embody the varying degrees of experience. While Knight has participated in several clinics at Chopticon, Roberts has never played before. At tryouts, they both share the same sense of nervousness. While Roberts heads to the supply room to hold a lacrosse stick for the first time, Knight looks towards the older players. "They're twice my size," he says, standing at about 5' 3", "It's kinda intimidating."
For Coach Sollohub, everybody who makes the team has a purpose. "If they make this team, they are on the team for a reason. And if that reason is simply to learn the skills, so that when they get bigger and stronger, they can apply it, then that's what we're gonna do."
With a large influx of underclassmen, the coaches expect experienced players to take on leadership roles. "Seniors, raise your hands," instructs Coach Sollohub. Hands immediately raise in the air, while the younger boys turn to look. "It's your job to look after these guys. If one of them gets lost, I'm blaming you." Likewise, Coach Fair plans to pair new players with experienced ones.
The relatively large rosters (36 spots for only 10-12 players on the field) might also pose a problem to teamwork.
Returning senior Michelle Smith believes the team will eventually come together, but with 36 girls, it might be hard to work together. "I think the seniors will want to take control, but that's not gonna happen because of the underclassmen."
In contrast, Coach Fair stated that "The team has a strong chemistry. A large team is not hard to manage when you have a strong chemistry."
Though junior varsity teams are necessary to join the SMAC conference, details about future JV teams remain blurry. Budget cuts may pose a problem, but Coach Fair says, "It really all depends on the Board [of Education]."
"Charles County is in a unique position," remarks Coach Sollohub. "We're definitely playing a game of catch-up. But it's also really exciting to establish traditions, to really show what lacrosse is all about – to Charles County, and to North Point."