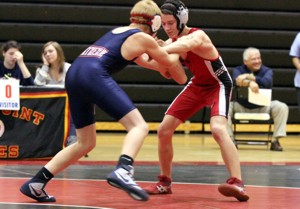 As the sun set on Tuesday night, the North Point wrestling team went to work. This was the first meeting between Northern and North Point since the Eagle's heartbreaking 32-30 loss at the hands of the Patriots. Coming into this match-up, Northern was the only undefeated team in SMAC, and the Eagles Wrestling team planned on ending that. Coach Pauole stated, "Northern is undefeated and this match would is another step in the right direction if we can come out on top."
The evening kicked off as North Point's own Curtis Gibson ('12) wrestled the first match of the night at weight class 182 pounds. Things didn't go as smoothly as Coach Pauole wanted them to, as his team found itself winning one match and losing the next and vice versa. This was a classic stalemate which made for a puzzling, competitive match-up. Then again, the chance was there for the taking by either squad, it was up to the North Point Wrestlers to decide there own fate.
Yet again the North Point squad came through. They were determined to show the Patriots how Eagles wrestle as they buckled down, grabbed the bull by its horns and didn't turn back. Leading the charge was Senior KeJuan Perez ('12) who won his heavyweight battle 6-4 with a takedown in the final seconds. Perez said "I wanted to make an impact for our team to get us rolling because it would be influential". After that match, Kyle Gascon ('14) stepped up next and shut out his opponent. The Eagles were controlling the tempo and wrestling a lot smarter and efficient, but the best was yet to come.
After the 113 pound match, the North Point Wrestlers went on a rampage. The referee's hands had to be hurting from slamming the mat so much as Tyler Morgan ('14), Malachi Edmond ('13), John Buffington ('12), Sean Mulloy ('12), were all able to pin their opponents. These pins also gained the Eagles a great cushion over Northern. At this point, the Eagles couldn't be stopped; nothing could change the team's confidence and morale level. The end was soon near as the Eagles were winning left and right; Captain Kevin Gascon ('12) won by major decision, and his two teammates Colin Schirf ('13) and Brandon Fouriner ('12) picked up victories as well through pins. As fast as it began, the match was over and the Eagles secured another victory as they topped the Patriots 51-19.