Model United Nations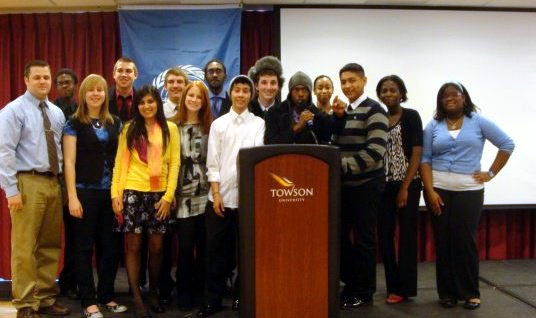 Ever wondered what it would be like to be a diplomat of a different country? North Point offers Model United Nations, an after school club sponsored by Mr. Kirby. Model United Nations is a simulation of the United Nations, and aims to educate its members about current events, and international diplomacy.
        After choosing a country, members are paired together and research their country's policies. The goal for the participant is to be exceedingly knowledgeable about the country in order to participate in debates and resolutions held at the Model United Nations Conference in March.
        The conference is held at Towson University. Members are required to write a position paper and a preliminary statement. The preliminary statement is an overview of a country's goal pertaining to the conference's global issue.
Drake Ryan (12th grade) commented on his experience in Model UN. "Model UN is so much fun. There are so many kinds of people to interact with. I got the chance to go to Model UN two times in a row and win awards each time."
Ryan recalls his experience during Model UN, "The best part about Model UN is the life-like experience, [and] it's almost if you are actually in a UN conference at times. People get so into the role of their country."
        Model United Nations is a great way for students to develop better communication, and public speaking skills. Students engage in problem solving activities, and debates. Participants often deal with the daunting task of negotiating resolutions with other countries. However, the experience in Model UN is rewarding for many.
        Azeezat Adeleke (9th grade) commented about her membership in Model UN, "The greatest thing about Model UN was the opportunity to delve into the culture and politics of a completely different country and take on that persona in front of the General Assembly. Sitting in committees and hashing out a resolution with countries like Israel, Myanmar and Bulgaria was such a great experience. It really opens your eyes as to how hard negotiating really is.
"Overall, Model Un was a great experience. A few months ago, each team of two people got their country assignments. North Point represented places from around the world, including Somalia, Cambodia (myself and my partner Elizabeth Burgess), and Kuwait. From there, we did research and wrote preliminary statements and position papers on the topic of this year's Towson conference, the global health crisis. At the conference, we interacted with about two hundred delegates representing 99 countries, drafting and voting on resolutions. The people who ran the event, students and staff at Towson University were all great. There was drama, humor, and a lot of cooperation throughout the two day conference. [Model] UN is definitely something I'm participating in next year. Where else can you argue with Ukraine, joke around with Bulgaria, and become friends with Canada?"
        Students with a niche for politics and international relations should definitely consider joining Model United Nations.
        "If a student loves public speaking and international relations, then [Model] UN is the perfect place for them. Our adviser, Mr. Kirby, is one of the coolest teachers I've ever met, and in general, the kids in MUN are great to be around," states Adeleke.
        Although the Model UN is over for the rest of the school year, North Point is already looking for new members willing to join. Becoming a member requires dedication, and strong intellect. If anyone has questions concerning Model United Nations, they should visit Mr. Kirby.