New Kids on the Block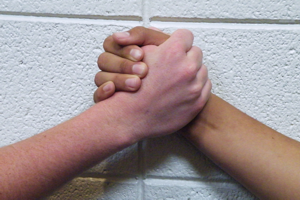 The first day of school is apprehensive for most students, but imagine starting school in the middle of the school year. By now, most students have established close-knit friendships. When you are a new student entering school later in the year, it is quite difficult to adjust to the new surroundings.
        Luckily, North Point High School offers Student 2 Student, an after-school club that helps new students, particularly those of military families, transition to North Point. Student 2 Student members help newcomers by giving them curriculum information, establishing friendships, and giving tours through North Point.
        Mrs. Quirk, a guidance counselor at North Point, is the sponsor of Student 2 Student. She has stated that, "When I register new students, I sometimes sense that they are feeling anxious about their new school, and so anything I can do to ease that anxiety I am interested in doing. I find that other students also like to help the new students and make new friends. It feels good to help others."
        She also mentioned her goals for Student 2 Student. "I want to make sure that every new student to North Point has at least one student whom they will be able to contact with any questions they may have. Also for the new student to make a new friend, someone who can sit with them at lunch, go to ball games with them, and be available to help them."
        Student 2 Student's Co-President, Will Coughlin (10th grade), says "Student 2 Student is a great organization, where we help new students adjust. People should join to help new students feel more comfortable at North Point, and to make North Point a better school." In regards to membership, Coughlin states, "We accept any one who would like to join but we especially look for people who have outgoing personalities and are relatable, but most importantly someone who wants to help new students."
        Rochielle Canare (10th grade) recalls her first time being a new student, "I remember when I first moved to Waldorf. I was definitely scared of how I would fit in. It was during the middle of the year, and I saw everyone already had made their own group of friends, so I felt out of place. I think moving to a new school is the hardest when in high school, therefore, I want to help kids feel comfortable and let them be able to have a good high school experience."
Not only do North Point's new students come from different counties, and states, they also come from different countries.
        Ray Etheredge (11th grade), is a new student at North Point who came from Germany in March. She explains her first day at North Point as being a little "rough", but not as bad as she had previously perceived. Ray is continuing to adjust to life at North Point. In regards to the process she commented, "At first it wasn't fun, but when I started to know more people it got a little better. I'm still trying to adjust to being in America."
        Student 2 Student meets every other Wednesday, two times a month. For more information, visit Mrs. Quirk in the guidance office.