March of Dimes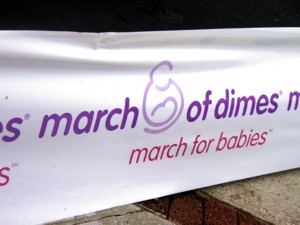 On April 25, many Charles County residents braved the rainy weather to attend the March of Dimes' March for Babies.
March for Babies is a walk-a-thon that is held annually at the La Plata Courthouse. Participants give donations to help fund and support research for babies born prematurely. For three years in a row, North Point High School's Key Club has donated money to the March of Dimes, and has participated in the walk-a-thon.
Registration for the event began promptly at 7. There was a DJ blasting tunes from Michael Jackson and the Black Eyed Peas. Everyone was full of excitement and eagerness, and was ready to begin the walk.
 A few minutes before starting, a Jazzercise dance instructor motioned the crowd to stretch. Everyone warmed up to "I Gotta Feeling" by the Black Eyed Peas. Once the warm-up and exercising was over, the crowd was ready to embark on their mission, to walk for babies.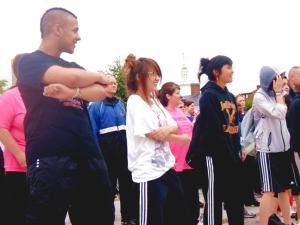 Quentin Tinsley ('10) was one of the North Point Students to participate in the walk-a-thon. Tinsley explains why he participated in Sunday's event, "To support the Key club, and the walk for premature babies."
"We want to support [premature] babies. It's all for premature babies. It's important to bring high school contribution to this event", states Vicky Park ('12).
"Dance for babies!" exclaimed both Tinsley and Park.
Grace Kim ('12), explained that she attended this event to represent North Point High School, and to help premature babies. She planned to raise $40. Kim states, "It's for a good cause, and you get the opportunity to exercise."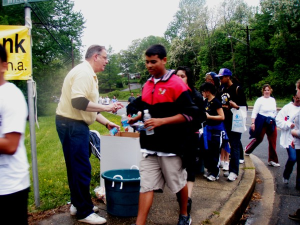 "The March of Dimes is the final event. [Key Club] usually does consecutive events all year. This is the event were we can celebrate. We've won the Spirit Trophy two years in a row!" states Melanie Balakit ('10).
Throughout the three mile walk, the North Point Key Club chanted many phrases, with regards to the March for Babies. Quentin Tinsley created most of the chants, such as, "What do we want…babies, when do we want them, now!" The most notorious chant was, "Honk for babies." This was phrase was yelled to majority of the cars that passed by as the participants were walking. Unfortunately, only one car honked for support.
To-Lam Nguyen ('10) stated that she would do the March for Babies again. She defines the event's purpose as, "Raising money to help research for the babies. By this, there'll be more treatment for birth defects."