Meet Coach S.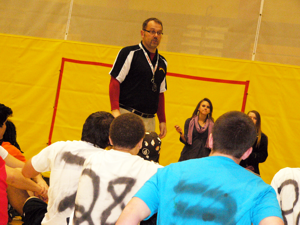 Under the fluorescent lights of the gym, thirty-nine boys wait for the head coach of lacrosse to make his introductions.
"He's a really great lacrosse player," mentions Coach Todd, assistant coach to boys' lacrosse, "A really great player." It's hard to imagine though, as Mr. Sollohub seems to be more fitting as a coach.
Standing before his potential team, he commands their complete attention, and their respect. "When we're playing out there, I'm not Mr. Sollohub anymore," he warns. "I'm Coach S. Call me Coach S." Heads nod in obedience.
Coach S., the new head coach for the boys' varsity lacrosse team, has played lacrosse throughout high school and college. He got into coaching when his friend from Alexandria, VA asked him to be his assistant coach. However, his story about coaching the Bulgarian national team is far more exciting.
"I saw these guys playing lacrosse, so I decided to play a little. I made some shots (he swings through the motions) and they were impressed.  I eventually started coaching for them," he says proudly. "I may even have to go back this May."
His excitement continues as he explains what's so attractive about lacrosse. "Lacrosse is a combination of almost every team sport you can imagine," he explains. His hands become animated as he continues. "It has the physical contact of football; it has the finesse and fluidity of soccer and basketball. It has the open field sense of soccer.  It's almost like playing hockey in the air. It's just the combination of so many different skill sets."
Whatever aspect attracted new players to lacrosse, Coach S. has the responsibility of building up a relatively new team. "I don't really have much free time," he remarks. "I'm a teacher and coach of a second year sport."
As a veteran coach, the relatively large roster (36 spots for only 10-12 players on the field) doesn't seem to faze him. "I don't know if I have a specific coaching style", explains Coach S. "But I make my practices harder than the game. The players are already under so much pressure, so they've got to be prepared. So you make your practices harder so that you know that they can perform."
While his practices will be challenging, his expectations of his players are also exceptionally high. He easily gravitates toward four essential qualities: good attitude, "coachability" (the ability to learn and improve), physical skill, and physical fitness. "I want all four," demands Coach S., "That's what makes a total athlete."
These demands are fitting for a young team who plans to enter the SMAC conference next spring. Up against experienced Maryland schools, all Charles County players have a learning curve to overcome. To deal with the transition, Coach S. focuses on having the proper attitude to develop a better team. "My attitude is the team. Team, team, team," he emphasizes. "It's a team sport. There is no way that 1 person can totally shine. It's not like basketball, the Michael Jordans and Lebron James. You can build one, but if that 1 person is out, the team's out."
To help develop skills among the underclassmen, he expects the seniors to play a crucial mentor role. "You see these boys right here?," pointing to the underclassmen, "if one of them gets lost, it's your fault."
Above lacrosse, Coach S. lists education, faith, and family as more important priorities. He is equally passionate about education as he is lacrosse. "You can't be an athlete. You're a student athlete. And you need the grades. Nobody is going to make a million dollars from this school playing lacrosse. If your grades start slipping, forget it."
Off the lacrosse field, Coach S. is far more easy-going, with a friendly disposition. Jokingly he says, "You know how teachers have pointers and stuff? I have a lacrosse stick. Whack!" The smile fades away from his face. "No, a student beater. [laughs] Just kidding, a lacrosse stick."
When asked about what kind of student turnout he'd like to see at games, Coach S.'s eyes light up. "Come!" he beams enthusiastically, "Just come and see what lacrosse is all about."