North Point Students Help Haiti Heal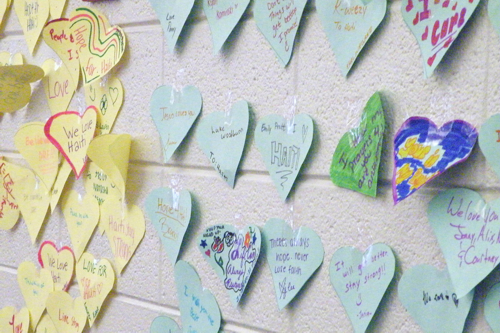 On January 12 at 4.53 PM local time, disaster struck in the small island nation of Haiti. A 7.0 magnitude earthquake shook the region of the country surrounding its capital, Port-Au-Prince, causing buildings and power lines to come crashing down. Within seconds, thousands of lives were extinguished with more than 200,000 lost in the following days. Millions were left with no home and no shelter.
        It was not long before the entire world, from famous figures such as Wyclef Jean to international non-profits like the Red Cross, sprung into action. North Point High School was no exception.
        The Student Government Association (SGA) found a way to showcase the school community's support for Haitians while raising money for relief efforts by selling Hearts for Haiti. These were paper hearts costing $1 each that were decorated by students and hung on a prominent cafeteria wall. The SGA raised over $500, which will go directly to a Haitian orphanage, benefiting children whose lives were destroyed after the disaster.
        "It's definitely a huge natural disaster and it's sad that they didn't have much to begin with, but it's great to see people donating so much," said Lauryn Coombs (2011). "It's pretty humbling."
        Students were eager to donate, opening purses and wallets to find money to give to this cause. "I think Hearts for Haiti is a good way to help the people in Haiti," remarked Siarah Beall (2013).
        The Class of 2011 also did its part, donating $2,011 to Haitian relief efforts. "I figure we had to help in some way. Since we couldn't physically help out, giving money was the next best thing," said Aaron Kauffman (2011), class Vice President.