Classrooms are Not for Everyone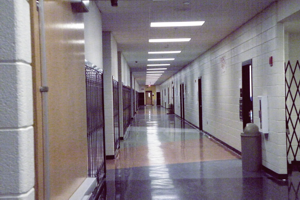 You have probably seen them rolling their carts down the hallway, making their way through a sea of students to get to their next classes. They are floaters, nomadic teachers who often switch classrooms up to three times a day. 
      Though the installment of the Educational Cottages has helped relieve most of the congestion in the school, some teachers go with out classrooms to call their own.
      After losing her classroom, this is Ms. Rhode's first year as a floater. As an Earth & Space and AP Environmental Science teacher, she finds that organization is a very important part of floating. "Especially when it comes to labs. I have to figure out how to set things up ahead of time," she explained. She may miss decorating her classrooms, but she enjoys being able to see people in the hallway. 
      However, Mr. Ander doesn't mind floating. His office is located in the art hallway, a close proximity to the classrooms he shares. "I'm lucky because I'm close to my rooms so I don't have to travel far." But he does admit that the organization can get tough, "I have to figure out ways to work with it."
      Though many teachers may struggle with getting through the crowd to make it on time to their own classes, "It has its benefits," says Mr. Galperin, a floater his first year teaching. "As a first year teacher, I got to know the school better by wandering around. I got to keep a lot less stuff and I also got to see everybody in the hallways." His main struggle was going between floors but says, "It was fun riding the elevator."
      He now has his own classroom and notes the differences. Teachers with their own classrooms often have to share their space. "The cart was my classroom and no one else could take my cart," he explained.
      With more students pouring into North Point and less classroom space to fulfill them, teachers and staff have had to find ways to accommodate them. When it comes down to it, classrooms are not for everyone.