Meet Mr. Felicitas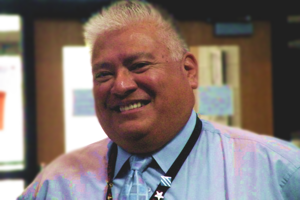 This school year, North Point's staff has had the pleasure of adding two new administrators to its faculty. One of them, Mr. John Felicitas, can be seen all over campus
—perhaps out on the bus lot waving the bus drivers forward, or in the cafeteria politely encouraging students to dump their trays.
If you were to visit him, you'd walk into an office with a welcome mat and slightly dimmed lights—not the usual atmosphere of a school administrator. His office was once a dismal place; the inside only blank, white walls meant to drive its detainees insane–that's right, the old ISR room.
"Isn't it nice now?" Mr. Felicitas says wryly. Now posters of cheerful aphorisms cover the walls. Pictures of family and friends sit on thoroughly knick-knacked file cabinets.
It's clear that
Mr. Felicitas is quite comfortable here at North Point, although this is only his first year.
 His quick adjustment may be accounted to his 30+ years of past experience in the educational field. "I had an opportunity after I worked in San Diego to take a job in Washington D.C. … I've been here since 1988, and I worked for the National Education Association (NEA) in Washington, D.C."
After NEA, Mr. Felicitas worked as a human resources specialist for St. Mary's county schools. Although he began his teaching career in his home state of California, the change to Maryland public schooling wasn't a hard one. Knowing some of the teachers and administrators previously employed at North Point helped to make his transition to our school smooth.
"I knew Mr. Pete Cevenini way back when it [the STI programs] was over at the old Stethem Center, before the inception of the North Point High School, before they put it all here. I also knew Ms. Hill back then, so when I had an opportunity to go back into school, this was the one school I wanted to come to."
His position
as an administrative assistant concerns many of Mr. Heim's previous responsibilities, like transportation.
"I guess my major responsibility is to make sure the buses arrive on time and leave on time; and also the safety of the students on those buses." Besides helping students get to and from school, Mr. Felicitas also maintains responsibility over the lockers. He does several forms of Public Relations for the school; training new teachers, and checking up on them from time to time. He'll gladly answer any questions they may have to "make sure things are going all right."
O
f course, one of Mr. Felicitas' final responsibilities as an administrator is to discipline students. However, he chooses to take a preventative approach to his relationships with troubled kids.
"I don't want everybody to come to my office thinking they're in trouble," he explains. "If I see somebody who seems to be out of sorts I'll say, 'Come on, stop by my office and we can talk.' And then I can give a teacher a heads up that maybe this student has an issue."
With an attitude like that, it's no wonder so many students come to him to take a load off.
One place where they can let the weight off of their shoulders is at the Student Diversity Club, where Mr. Felicitas is the sponsor.
He himself has seen much diversity in his lifetime. He served in several parts of the world during the Vietnam era (late 1960s-early 1970s). He says he actually got very lucky in that situation. "I say that because I didn't serve
in
Vietnam because I had two brothers already in Vietnam, in the navy. So I was actually serving in the army, and I served in Germany from '71-'73."
Not knowing his military history, some students have remarked that the new guy looks like he's in his late thirties. Mr. Felicitas asked them why they had such a sentiment. Their response? "You don't dress like an old man," they said simply. He answers back, "Okay, I'll take that as a compliment," with a laugh.
Although Mr. Felicitas is not a teacher in the classroom everyday, he believes that once you are a teacher you will always be a teacher.