North Point Orchestra's Night at the Symphony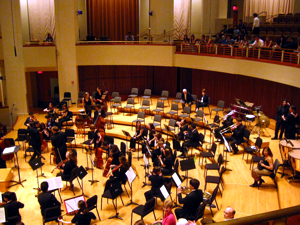 From the first note, the audience was spellbound. The music flowed from the musicians' instruments, leaving the crowd to lose themselves in the works of two iconic composers.  
      This was the University of Maryland Symphony Orchestra, a group which students from North Point's orchestra and band were given the opportunity to see perform on April 30. 
      The group played at the Clarice Smith Performing Arts Center at the University of Maryland's campus in College Park. The 90 students from North Point, accompanied by some students from Lackey's orchestra, were given the rare opportunity to sit in the choral balcony of the auditorium, above and behind the orchestra. These seats gave the students a spectacular view of the conductor, the musicians, and the audience.  
      "I had a great view, and getting to look down on an orchestra is amazing," said Bri Busch ('13), who plays the flute in North Point's symphonic band. "I could feel them playing in my seat, the sound was that huge." 
      James Ross, director of the UMD Orchestra and world renowned musician, gave the North Point musicians the chance to attend the performance free of charge. He has guest conducted this school's orchestra on two occasions, complimenting it was it has accomplished. 
      "I felt honored to have such a well known conductor appreciate the work we are doing," said Alec Thornton ('10), a North Point violist. 
      The theme of the concert was "Titans", and the group played the entirety of Beethoven's famous Fifth Symphony and Hector Berlioz's Symphonie Fantastique. The latter included an innovative narrative portion read by Jon Spelman, an internationally known solo performer. 
      Busch also remarked how grateful she was to be a musician at North Point, given the chance to see and work with such renowned guest conductors and groups, such as the Navy Band who played a concert here on April 16.  
      "I was just thinking how fortunate I am that our school gives us opportunities like this," said Busch, who gives credit to Mr. VanDyke, North Point's music director, for making all of this possible.