Coffeehouse: Tea for Two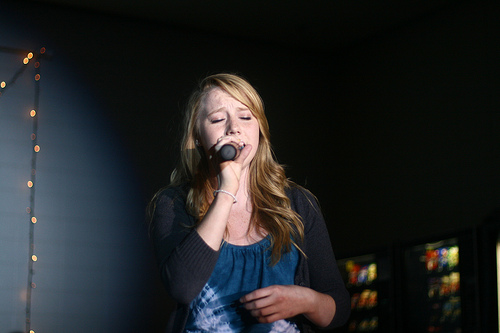 Coffeehouse was another hit with over twenty different acts and many from new performers.
On April 30 and May 1, students and teachers were took a break from projects and work to relax and sip some ice tea, while enjoying a variety of performances. There was a wide range of acts, including bands, poets, dancers and soloists. Whatever you were in the mood for, they had.
For the second coffeehouse of the school year, many new talents were found to perform. Some new and refreshing acts included Annie Silva ('12) who sang and played the ukulele, Yadira Coleman ('12) who sang "Put Your Records On" and Kyle Upchurch ('12) and Jessica Babiarz ('13) who performed a guitar and singing duet. Another great act was Desi Girls who brought culture to the show with a unique Bollywood dance. There were also new hosts, Briana Adams ('10) and Damon Ollison ('10) who were able to keep the excitement going throughout the night.
Some performers who played in the previous coffeehouse returned, and they did not disappoint. Poet, Jania Osbourne, returned and wowed the audience with another poem. Osbourne impresses the audience with her powerful stage presence. Another great act that returned was dancer, Andrew Latour ('13) who catches the audience's attention with his unique dance number. Latour's expressed feelings and emotions through dance.
During the first night of Coffeehouse, Falyn Donaldson ('10) "really enjoyed Borderline" while Shelby Burton ('12) thought that "Matt Lorman ('10) did a great job singing 'Imagine' but I also extremely enjoyed Natalie [Griffin ('12)] and Hannah's [Roger ('12)] rendition of Carrie Underwood's song 'Temporary Home'." Wale Onakoya ('11) claimed "Fast Life ENT was really good, especially with the dance moves."
Mr. Minor was very pleased with making eighteen hundred dollars on the first night alone, but he hoped to see more people come out to support the students and Theater Department. "It was really hot so I understand that people would not want to come out in this weather," explained Minor. Minor was proud of the money they raised for the Theater Department.
[Hopefully, next year we will have another exciting Coffeehouse]. Minor looks forward to seeing more students participating next year and showing off their talents. So, if you are interested in performing in next years Coffeehouse, start practicing and come spend a night hanging out with friends and family for a great show.