A Day in Life of Ms. Carr, Queen of the Print Shop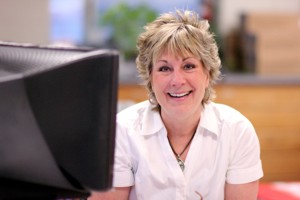 Each day, the Print Shop dishes out hundreds of papers: tests, flyers, packets, worksheets, and whatever dozens of students and staff may need. Each paper comes surging out of the copier non-stop from dawn till dusk — that is where Ms. Carr, Print Shop Technician comes in. Her day to day life in the Print Shop is a demanding experience.
Seven o'clock. The ball gets rolling as Ms. Carr enters the workplace. She kicks off the day by attending to a heap of copy orders. Once she starts up the machines they run ceaselessly all day. Her work incorporates cutting, folding, printing, ordering a variety or papers and supplies for the machines, managing meter readings, and ensuring the needs of the teachers are met. She not only prints for North Point High School, but Davis and Diggs also rely on her for printing. The middle mark of the day is NEST, but by no means does the work slow in pace. CRD2 student, Marisa Alvarado ('12) jumps into the mix, helping out Ms. Carr for the remainder of the day. Once the workday is done, Carr loads the machines with paper and lets them run for the rest of the afternoon.
Carr has been a part of the North Point staff ever since the school opened. Over the years, her job has become more hectic. However, this is not a problem for her because she enjoys being busy. She gains a sense of satisfaction when sees all the grateful teachers. In her words, "I like having a job where I help people."
Additional aids in the Print Shop have been a great benefit to Ms. Carr. Seniors from the Graphic Communications program intern in the Print Shop for a week, learning the trade and getting real world experience. If ever she is out, these interns would lend a hand. Similarly, the CRD2 student Alvarado works with Ms. Carr daily, easing the workload. Alvarado began to working at the Print Shop earlier this year, when Ms. Carr broke her ankle and extra help was needed.  Along side Ms. Anderson, who also had to take on the Print Shop duties, she learned the trade and has been working there ever since. "I like working with Ms. Carr and helping all the teachers," she said.
According to the Graphic Communications teacher, Mr. Gilbert, "Ms. Carr is an indispensable part of North Point High School. She does not just go about her daily activities as a job. She thinks more about what is better for everyone else rather than what is better for her. She often goes over and above what is required of her job to make things easier for everyone else."
So the next time you get a test, flyer, packet, worksheet, or just about any printed sheet of paper, think of the person who makes it all possible- Ms. Carr.