A Day in the Life: Mr. Gick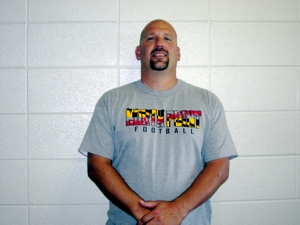 Mr. Gick does not do his teaching in a classroom like most teachers, but instead in the gym, weight room and football field. His days at North Point consist of teaching physical education and always doing something football related.
This year, Gick has three physical education classes with most of them being Advance P.E. II. If he is not on NEST duty, then he is meeting with Coach Lane or Coach Orndoff during lunch, and getting things together for the players. Gick enjoys both his weight training and Advanced PE classes. Seeing them make everything competitive is satisfying to him, whether it is playing some game in gym or just lifting weights. "I enjoy seeing the students playing together and having fun," said Gick. He likes how the students must work as a unit to perform well together. Reginald Rogers ('13) not only has him as a teacher but as a coach as well.  "I like having Gick as a teacher and a coach because he can teach us more about our plays and stuff in class and give us better football workouts," stated Rogers.
When the bell rings at the end of the day, Gick goes into coaching mode for practice. If he is not coaching the defense, then he is working with the wide receivers on offense. After a three hour long practice, Gick can go home to his family, but it does not end there – he continues to watch more film. He spends around an hour watching film at home. He also spends more time at NEST watching film with members of the football team. "I watch our opponents or watch our defense. I put in an hour at home watching film; it's tough during football season. I don't really have a lot of time for things," said Gick.