A Hidden Talent: Mike Childers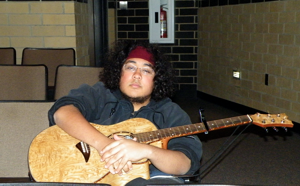 Many students come to events like Coffeehouse to watch students showcase their many skills and abilities. As amazing as those who perform are, there are many who sit in the audience as undiscovered craftsmen of their art.
      Mike Childers'('10) knowledge and skill on the acoustic and electric guitar is as extensive as his collection of head bands. Known for his laid back person, he doesn't speak much but the sounds of his guitar and passion in his voice makes up for every word unspoken.
      Childers first received his guitar as a gift from his mother in the eight grade. After two years of sitting in a corner of his room collecting dust, he'd finally cashed in his free lessons ticket and instantly fell in love with his instrument.
      Since then, Childers has performed in every coffeehouse hosted and participated in chamber choir during his freshman year.
      There isn't anyone that he bases his music on, but he does appreciate the musical styles of Jimmy Hendrix and Bob Marley. He also finds free time to sit back and blast some Beatles classics.
   
     However, he does not have any goals or aspirations for what he does. "When it comes to my music, it's wherever my strings take me," He said nonchalantly, "I'm just going to play and let things manifest for themselves."
      Whether he's playing guitar or singing an original piece, be sure to catch Childers' last coffeehouse performances on April 31st and May 1st.