For the Love of Poetry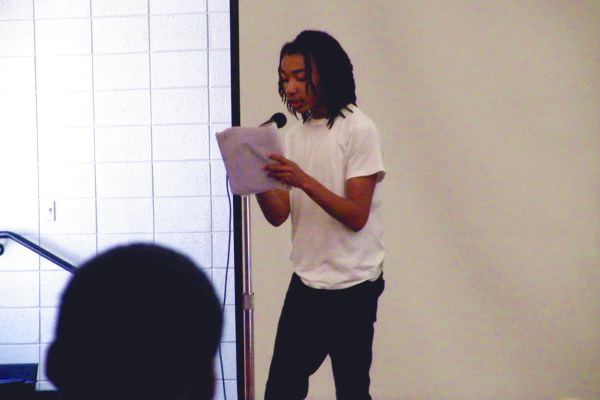 Mr. Hoffman's English classes are running around the school cafeteria. Tonight, not only are they trying to raise awareness for various charity causes, they are hosting North Point's first annual Poetry Slam. The bright, loud, sparsely populated cafeteria may not represent a spoken word venue, but when the students begin to perform, the atmosphere completely changes.
After a short open mic session, representatives from each charity group competed in round one of the poetry slam. In a poetry slam, each performance is judged by five judges, based on a rating scale from one to ten. Respect is key to a poetry slam, as the audience must applaud the poet, not the performance. Though most of the performers admit they are amateurs, their word choice and performance proved otherwise.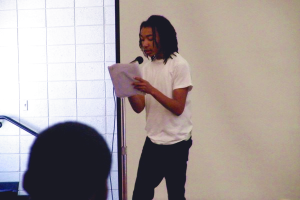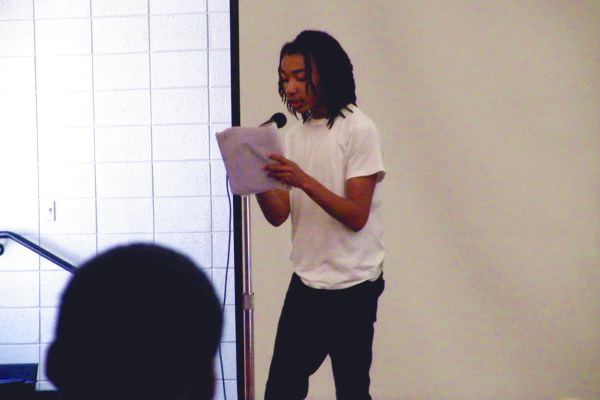 Chris Johnson ('10) from St.Jude's offered an inspiring original poem titled "I Am", defying limitations that people can set on each other. Darius Simmons ('11) from Autism Speaks shared a dark, and extremely personal poem. "I'm trying to be remembered," stated Simmons. "I'm trying to get out there. I don't write a lot, but when it comes to me, I'll write it down."
However, some students truly stole the show with oratory excellence. Dantise Brown ('10), representative of VH1's Save the Music, demonstrated her wisdom through her original poem "My False Reality." Brown held eye contact with the audience, had vivid body language, and spoke with a firm conviction.
The real show stopper was Brandon Compton, from AMVETS. In the last round of the poetry slam, Compton performed his poem "Roses Will Live Forever" to ambient music set to a simple drum beat.  A classic love poem, Compton utilized dramatic pauses and was the only competitor to earn a perfect score from all the judges.
The charities they picked had strong connections to the students' lives.  Owen McMail ('11), from the St. Jude's group, had an uncle who had cancer. David Cook ('10), who was apart of the Autism Speaks group, lost a friend because of autism. "My very close friend died. A lot of kids have autism too, so we want to help them out," Cook stated. Shawn Walmsley ('10), who was apart of the AMVETS group felt a responsibility to take care of all American veterans. "We feel that these people should be treated like heroes when they come home," remarked Walmsley.
The duality of the Poetry Slam – part charity fundraiser, part poetry slam – proved to be a true challenge, but the students pulled it off. "It's like two projects in one," explained Andrea Bagwell ('10).  With regards to next year, Mr. Hoffman stated that he wanted to make the poetry slam an annual event. "I wanted them to learn about event planning, and all the challenges that came with it." His English students did just that.