Borderline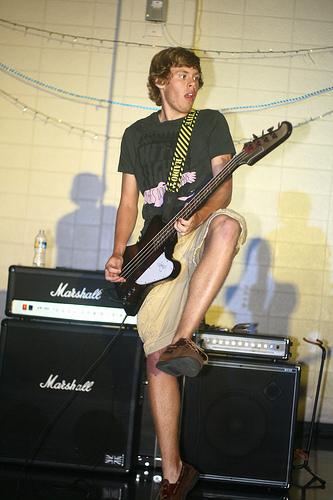 North Point's own band "Borderline" has released a full length CD April 29. Featured at this and past years of coffeehouse Borderline is a mainstay in North Point music and shows the talent North Point Eagles have. In regards to Borderlines new CD, Bassist, Mike Dillon (10') said "it is the best 35 minutes and 45 seconds of your life.
The members of Borderline, Connor Doran (10'), Mike Dillon (10'), Rob Willis (10'), and Drew Mercer (10'), have know each other since the end of middle school but really created the band at the end of 9th grade. Mike Dillon and Connor Doran go on to describe how the band was thrown together at first but grew close over time. Connor even has said that he didn't think they were going to be as successful as they were due to the thrown together start.
Their self titled album "Borderline" grew from a demo in July of 2009 to a ten track CD in the winter of 2010. North Point's Matt Hinshaw (10') has been credited with helping Borderline progress with their musical sound by recording the entire album in his home studio, Matt Hinshaw is also in a North Point band called "We Have The Summer."
"Well there are songs about girls, song about friends and stuff like that, but really this CD is about our experience in high school" said Doran the guitarist and singer of Borderline when asked about the inspirations for this album. "The first song of the CD most describes this" said Connor. When you open the CD place it in the player you will hear this technoesque intro which Dillon and Doran say is based upon the Lord of the Rings Trilogy.
When it comes to favorite songs Doran and Dillon have trouble deciding. Dillon says it is the current song he is listening to and Doran says it very on the mood and day.
"Fearless" really hits the heart with a surprise at the end Doran says, while "Goodbyes and Hellos" and "Don't Ask Don't Tell" are fan favorites.
Overall Borderline's new album "Borderline" is available for sale through any of the band members and costs $5. It is really poppy and really catchy and appeals to a broad fan base from North Point and beyond. Support North Point bands and pick up your copy today and check them out at
myspace.com/borderline17 and Facebook.