24/7 Takes On Music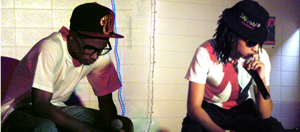 It all began with "the joining of the Leo and the Libra." During their sophomore year, divine intervention brought Deion Baker ('10) and Chris Johnson ('10) into the world of music.
   Since then, the duo has been writing and arranging its own music. "We started performing out of the love and appreciation for [it]," explained Baker.
   Careful to stay away from labels, they categorize their sound as experimental, hip-hop fused with different elements that bring their style together. "We've been called all types of names," said Johnson, "variety, melting pot, it's up to the listener."
   Both Baker and Johnson guarantee that everyone can get something from their music. "It's something you could to ride to but you could still show your grandmother," explains Baker.
   During this year's first coffeehouse, 24/7 put together an upbeat, fast- paced song, "Woke up This Morning" to get the crowd moving. "Performing, to me, is the best part," said Baker who describes his first performance as "an adrenaline rush." Their second performance was a little different. Both Johnson and Baker took the time to sit on stage and speak to the audience through lyrical persuasion filled with alliteration and metaphor. "Music is real powerful, [we] wanted to put into the music what we think and what we feel," said Johnson.
   "The Come Up" is a song that summaries their journey through music, and has become the group's favorite song to perform. "It's also fun for the audience to listen to," adds Charnae Betton ('10), who occasionally collaborates with the duo. "Even though I didn't perform on that track, I really enjoyed listening to it."
   What started as basement music evolved into something they could use to make a difference. "We wanted an identity for people to recognize us through the messages we want to spread," said Baker.
   Riding on influences from Michael Jackson and George Clinton to Nas, Common, and Wiz Khalifa, the duo admits that music has made them more aware. With definite plans on pursuing music, they're going from "shaking your behind to changing your mind."