Thespians Honored at the Second Annual Theater Awards Show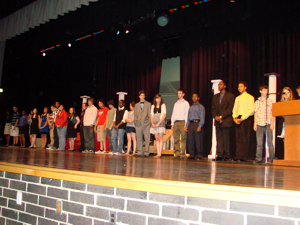 "Welcome to 2010's Theater Awards Show with your hosts Briana Adams ('10), Damon Ollison ('10), and your favorite trophy boy, Jesus Duran ('10)!" a deep voice beckons throughout the auditorium. A spotlight focuses on the hosts, as they make short introductions about the theater's department second annual theater awards show.
Hosted last Friday afternoon, thespians were honored for their accomplishments. In the format of an awards show, there are several categories thespians can win awards from. Students were nominated and voted for by their peers based on their performances in this year's productions.
The stand out thespian of the night was senior Stephanie Barlas. Involved in the theater department throughout high school, she has proven her dedication by becoming a member of Troupe 7040, being an Honor Thespian, and president of North Point's Thespian Society. Barlas had the honor of taking home three awards as Best Dramatic Scene, Best Actress, and Director's Choice Award. "I really put my heart and soul into theater," stated Barlas, who has participated in nearly every theater production since her freshman year. "I'm going to continue theater in college." When asked about lasting messages to future thespians, Barlas replied, "Just to enjoy every single part you have. Embrace it, love it."
In contrast, freshman Julia Keesler has many more years of theater ahead of her. Recipient of The Most Promising Freshman award, she is very excited for the next three years. "I look forward to just being able to be in a production, whether acting or behind stage. I just want to be involved as much as I can."
"Theater incorporates every single subject," Mr. Minor, North Point's head theater authority, says with conviction. "Did you know that?" Mr. Minor pauses before continuing. "It's the beginning of entertainment for the rest of our lives. It helps people come out of their shell. It helps people speak in front of people," he explains.
While the theater department develops a student's confidence and artistry, it also creates strong bonds between the students. Eating light refreshments in the set shop after the show, there is an easy ambiance in the air. Alexis Frye ('12), recipient of The Most Promising Newcomer Award, recalls being a new student at North Point. "I like, I didn't know anybody," Frye reminisces. Frye is happy that her mother encouraged her to try theater. "We're all like really, really close. All these people are like family to me," she happily explains. Likewise, Thomas Williams ('11) enjoys the friendships he has made through theater. "I like the fact that I get to meet new people. It's also an opportunity to expand my talents."
One of the most successful years in North Point theater history, boasting two outstanding plays and two Coffeehouses, thespians can look forward to more success in the future. "Each year theater just keeps growing bigger and bigger," remarks Mr. Minor. We hope it will.
[imagebrowser id=24]