Fashion Club Hosts Modeling Tryouts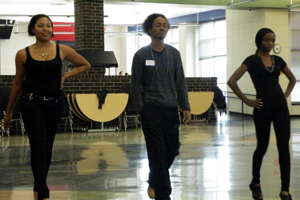 Enthusiastic participants sat anxiously in their seats as North Point's fashion club hosted modeling tryouts on October 7th and October 14th. The models would be judged on their facial expressions, their outfits, and their walk. They would then pose for a quick head and body shot. By the end of the audition process, only 25 of the 50 students who auditioned would be chosen for the fashion club's modeling team.
Music blasted as would-be models walked in sets of three across the cafeteria to face a panel of judges and club officers. "The three judges are volunteers from the community," said sponsor, Ms. Collins, "we chose them to give us an honest opinion of the contestants."
And an honest opinion the judges gave. "There were a few that were really good and some with potential. But a majority have a lot of work to do," said judge, Stacey Simpkins. "I'd say about five out of 35 made the cut." Spectators, Keona Daniels ('12) and Tiffani Smith ('12) agreed stating that some contestants were "a bit over-dramatic."
Many of the contestants were nervous to strut their stuff. "The hardest part of the tryouts is getting over the nerves," said N'Dea George ('14) who found it hard to remember where to stop and staying on beat. But her favorite was the music and how she felt as she competed with the girls she walked with. Nicole Loftus ('12) agreed stating that she would have like to warm up first.
However, some contestants were confident in how they would perform. "I know people with modeling experience. I'm aware and I'm confident in what I'm going to do," stated Alyssa Crospy ('14).
While some auditioned so that they could gain experience, Rano Dhaliwal ('11) was among a few contestants with prior modeling experience. "I auditioned because I used to be on the fashion team at my old school. So I think I did pretty good."
Club officers were excited to see what they would be working with. "Seeing how the girls' personalities come out as they walk is interesting," commented Reniecea Wiggins ('11). "It should be a new experience for all of us," added make up artist, Aiyana Coker ('11).
After the models are determined, club President Ashli White ('11) plans on having them learn various techniques and routines in preparation for the Catwalk, an annual competition held in Prince George's County where various high school modeling teams compete with each other.
"A lot of the participants want to use this as a profession, so we're [the fashion club] providing them some experience," she added.