Tell us a bit about yourself.
"I am Filipino. My style is pretty selective and different. I don't follow the crowd and I don't care what people think."
What is your biggest influence?
"My biggest influence is my 'Kuya,' which means my brother. Usually his choices influence mine and I really look up to him."
Tell me a bit about your hair.
"I don't use any gel or anything on it. I fix it up the day before with Garner Fructis. I takes me five minutes to get it perfect. I was inspired by Quest Crew's D-Trix from America's Best Dance Crew."
What is your favorite place to shop?
"Pacsun is my favorite place to shop. They have my favorite selection of clothing like skinny jeans, plain shirts, and button ups."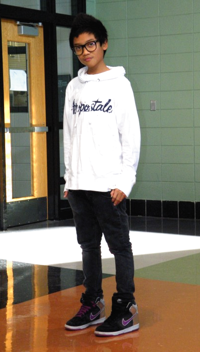 What is your current favorite color?
"Blue."
What is your next 'must have' item?
"Nike SB's because I really like the selection of shoes. It appeals to me."
What is your biggest splurge?
"Shoes because shoe color goes well with shirt color."
What would you tell a student seeking fashion advice?
"Don't be afraid of what the public will say, be confident."
What do you think North Point fashion will be like in 20/20?
"A different trend may come but skinny and fitted shirts will stay."