Taylor King Ready to Show North Point Something New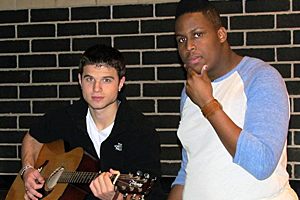 Coffeehouse showcases the talents that walk the halls of North Point. Last year, Taylor King ('11) surprised the audience with his talent in spoken word, showing everyone that he was more diverse than a typical rapper.
King's poetic and musical abilities did not just happen overnight. "I wrote my first poem in the second grade, but I used to focus more on music," he stated.
King gets inspired by anything and everything, but anything he can think deeper into is what usually motivates him to write. He enjoys writing about whatever trials or tribulations that life throws at him, but a lot of the time it has something to do with the fairly recent loss of his mother. Instead of letting life keep him down, he uses such obstacles to motivate him.
Though he has been focusing strictly on poetry, he recently began working on a music project. King and fellow musician, Nick Thomas ('11) have been building a name for themselves in music.
Their creativity didn't start flowing until they both managed to get into the Poet's Workshop class this year. "Nick was so impressed by my poems and love of music, and I was by his vocals, that we decided that a collaboration would be promising," claims King.
Although both insist on giving the other more credit for their work, King and Thomas both put an equal amount of effort into their music together. "It starts with Nick letting me hear the acoustic pieces that he comes up with on the guitar. I give him the 'yay' or 'nay'- but its always a 'yay', then I say the first subject or feeling that comes to mind. He shares his first thought or feeling, and then we brainstorm on the song's topic and message. Nick works his magic with coming up with a hook or chorus, and I write my piece. From then, it's all a matter of bringing it all together," he explains.
When Thomas's acoustic and vocals mix with King's poetry and lyricism, it creates a distinct sound that anyone of any age, race, color, or religion can listen and relate to, sing along, and ultimately come together with. "You can play this in front of your pastor, mom, or best friend. It's all about the joy and love of music, pleasing the artist and touching the listener from ear to heart."
King and Thomas recently released a video for their song, "Don't Cry." Both agree that they couldn't ask for a better finished product. King admits that he "gets chills" every time he hears it.
The feedback from friends and fans was shocking to the pair. "We never expected it to blow up the way it did. Nick and I both made new friends in the process because North Point didn't hesitate to show us how much they loved the song. It makes it all worth while as artists when you put your all and your heart into a song and you really sincerely touch people with your song's message. Several people claimed that they actually cried or shed a tear while listening to 'Don't Cry' for the first time. And it's that very moment that as an artist, it hits you just how much you can touch people just by the words you say or sing in a song. And that, to us, is the reason for making music."
"The inspiration for the song was to assure anyone going through a hard time that we all have bad days and everything will be okay. You should be comfortable with the person you are, no matter who you are," King continued.
So will we being hearing the duo perform at Coffeehouse this year? King left us by saying "That's for us to know and North Point to find out. Just make sure that you're there to enjoy whatever we prepare for the Coffeehouse audience."