Coffeehouse: Laugh a Latte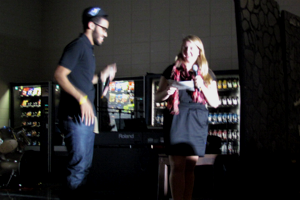 By day they are students, walking the halls, but by night, they are a lead singers in bands, dance crew members or even an aspiring actors. Whatever the case may be, all were welcome to showcase their talents at this year's Coffeehouse: Laugh a Latte.
The crowd cheered with encouragement for the acts that performed. "It was fantastic. There were incredible crowds and everyone was so respectful. It was wonderful," thought the man in charge, Mr. Minor.
Stage Manager, Owen McImail ('11) agreed, adding, "Coffeehouse is going really well this year. We have a lot of diverse acts and some returning North Point Alumni. Along with our great hosts, this show is the best yet."
The hosts, Lauryn Coombs ('110, Lomond Johnson ('11) and Layne Washington ('11), kept the crowd alive throughout the night with their jokes, commentary and their own video skits.
The audience showed excitement and enjoyed all the acts that performed. Among them were some that caught the audience's attention. "Olivia Johnson was good, we liked her a lot." explained Noel Barnwell ('11) and John Thomas ('11).
Taylor King ('11) and Nick Thomas ('11) were also another memorable act. After performing their original song, "Don't Cry," many of the audience members found themselves in tears. "Their song had meaning and was performed beautifully," stated Lauren Kogok ('12). Mandi Blades ('12) added that "it was a really inspirational song and caught my attention out of all the acts. The story and voices of the song were breathtaking."
The profits from the show go towards the production of musicals and plays, along with the scenery, and equipment. The theater department was able to use some for their recent purchase of their new portable sound system.
The sound equipment was not the only new thing at coffeehouse. There were several new performers, like L-Jam Cru, the comedy of Dominic Allen ('11) and Olivia Minor ('11), and the duet of Marilyn Estoque ('11) and Westlake student, JJ Remo ('11). There were also returning acts such as the band Buzz'd, guitarist and singer Annie Silva ('12), and more.
Minor was proud of the night's outcome, but to improve he would like to develop a better system of rehearsals as well as more rehearsal time with the hosts. He would have also liked to have seen more bands in the show. As for a second coffeehouse this year, Minor has yet to make to a decision.
[nggallery id=60]