The List: Top 5 Romantic Movies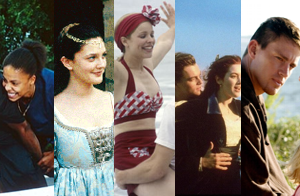 With Valentine's Day fast approaching, there isn't a better time to pick the perfect fuzzy, heartwarming film to watch with a loved one, or for many, in satisfied solitude. Here are a few movies that scream romance like nothing else.
The Notebook (2004)
Based on a novel by Nicholas Sparks and starring Rachel McAdams alongside Ryan Gosling, this film features the long, complicated, and unbreakable love affair between a wealthy South Carolinian girl and a boy from a local family. Their romance stretches across time and overcomes many obstacles, a plot that has been done time and time again, but not at this level of polish.
Titanic (1997)
Until recently, Titanic was the highest grossing movie of all time, and for good reason. It's a classic tale of forbidden love between Rose, a wealthy English woman (Kate Winslet), and Jack, an American drifter (Leonardo DiCaprio). The story is set apart by its setting on the doomed RMS Titanic and the frenetic romance and tragedy that blooms as the ship slowly, but surely, falls to the ocean floor.
Ever After (1998)
This retelling of the classic Cinderella is among the best ever. Drew Barrymore stars as the downtrodden maiden who falls in love with the Henry, the Prince of France, after masquerading as a member of the royal court. Though the story's end is never in question, the moment when all of the elements of the plot come together is as sweet as ever.
Dear, John (2010)
Another film based on a book by Nicolas Sparks, the master of the romantic novel, Dear John features the story of John Tyree (Channing Tatum) and Savannah Curtis (Amanda Seyfried), a solider and a college student who fall in love and are soon separated. Savannah keeps in touch with her sweetheart by sending him letters, though their relationship is but through a lot of strain.
Love & Basketball (2000)
Monica (Sanaa Lathan) and Quincy (Omar Epps) started out simply as childhood neighbors who shared a mutual love for basketball. As the years pass and both enter careers as professional players, they have to come to terms with their relationship with the game and each other.