Featured Fashion: Johnathan Bagley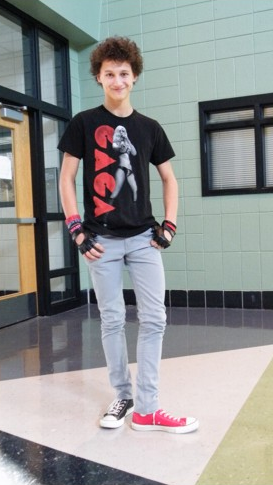 Tell us a bit about yourself.
"I'm Jonathan, I am from Texas. I enjoy outrageous things, music, and art. I want world peace and I will fight for it."
What is your biggest influence?
"Lady Gaga. She is so different and just amazing and perfect. Even with her flaws she still manages to be

amazing."
Tell me a bit about your hair.
"I wear it curly when I feel like it. Sometimes I straighten it. It depends on

my mood and what day it is. I

usually use a special shampoo when I want to straighten it."
Where is your favorite place to shop?
"Hot Topic. I love their clothes, humor, and Goth origin"
What is your current favorite color?

"Red."
What is your biggest splurge?
"I spend a lot on Lady Gaga concerts. I think it is an experience that

everyone should have."
What would you tell a student seeking fashion advice?
"Personally, I dare to be different. Just be yourself, don't worry about what

others think. You are wearing clothes for yourself on for them."
What do you think North Point fashion will be like in 2020?
"I imagine a lot of colored hair, shoulder pads, and shoulder spikes with a lot of silver. That is just based on what I see happening now."