Tell us a bit about yourself.
"I am seventeen. I work at a clothing store, Wet Seal. I wasn't into fashion until I started working there. My personal style varies with how I feel. Sometimes I feel like I want to do well in school so I dress that way. Some days I want to feel outgoing so I'd wear a colorful dress."
What is your biggest influence?
"My friends Savannah Cover and Nicole Lottus are my biggest influences. I wanted people to see me differently. When I saw what they wore, I wanted to start dressing my age."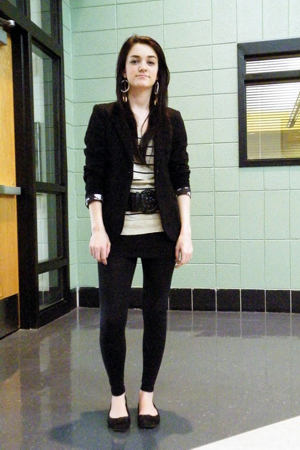 Tell me a bit about your hair.
"I use shampoo and conditioner, dry it, and straighten it for thirty to sixty minutes. I like my hair wavey but it takes too much time."
Where is your favorite place to shop?
"H&M and Forever 21 because I like the clothes."
What is your current favorite color?

"Deep Red."
What is your biggest splurge on?
"Dresses."
What would you tell a student seeking fashion advice?
"I would tell them to get their own style. They can choose things they like from a magazine. Most people are afraid to step out. Get someone that they think can dress well and shop with them to get their opinion."
What do you think North Point fashion will be like in 2020?
"There are probably going to start following  new trends with leggings and flowing shirts. It is going to be more outgoing and different."