Grab Your Tickets for North Point's Musical: Anything Goes!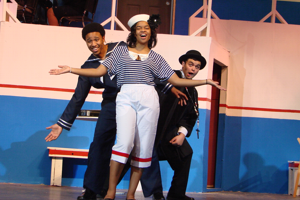 Come one, Come all! It is time again for North Point's showcase of our spring musical and this year Mr. Minor is eager for opening night. North Point has performed knock-outs like Blood Brothers and Joseph and the Technicolor Dreamcoat, but this year Minor has chosen the musical, Anything Goes. As the cast and crew are putting the finishing touches on, the opening night is coming closer and closer. You can see the musical this Thursday through Saturday (April 7th-9th) starting at 7 p.m. If you have not seen or heard the musical before, do not let that interfere with your decision to go. Mr. Minor gave us the dirt on what to expect.
Why did you choose Anything Goes?
It's a really lively and funny show—full of big brassy numbers and lots of tap dancing! A number of the songs will be surprisingly familiar to the audience.
How does this musical compare to the ones in the past?
It's a lot brassier, the plot line is mature, and the music and dance are a lot more complicated.
What is a quick summary of the show's storyline?
Billy (Trey Lyles) boards the U.S.S. American to "woo" Hope (Jessica Kirkham), but she is sailing to be married to Evelyn (James McCollum).  Billy enlists the help of Reno (Nicole George) to "distract" Evelyn, but she falls in love with him. He also gets the help of "Public Enemy #13" Moonface Martin (Brad Sharper) and the results are hilarious.
What should we expect from the musical?
Lots of toe-tapping to the familiar tunes, and phenomenal dancing, choreographed by Mrs. Dutrow.
If you can describe the musical in one word, what would it be?