Featured Fashion: Carrington Reeves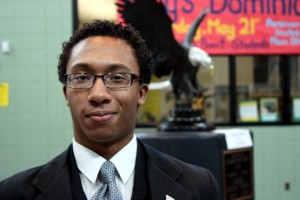 Tell us a bit about yourself.
I'm a senior and I have been here for 6 long years. I am an assistant to AP World Teacher, Mr. Serpone.
Tell us about your hair.
I don't do anything with it.
What is your favorite place to shop?
I like a mix of Macy's and Men's Wearhouse. I like their blazers and ties. I am not picky about pants.
What is your current favorite color?
Red!
What is your next 'must have' item?
I am looking forward to a new black blazer.
What is your biggest splurge?
I am not that way with material things. I splurge on food. I don't even have to be hungry to eat. If I am in the mall and I walk by food, then I will buy something to eat or drink. Sometimes I even have a full coarse meal.
What would you tell a student seeking fashion advice?
Stay true to yourself. And wear what you like. Simple outfits are good outfits.
What do you think North Point fashion will be like in 20/20?
Surely, North Point fashion will not be anything I would wear. I am already not too wild about the whole "skinny jean" thing. Based on what I see now, it will probably be simple. I don't imagine anything else happening.