Chili Cook Off Keeps Music Lovers Satisfied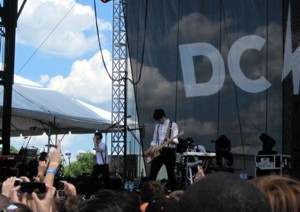 The crowd, decked out in tank tops, t-shirts featuring their band of choice, and in various states of undress, bobbed up and down as young men and women were lifted up and above them, riding a wave of people. The sounds of guitar, bass, drums, and keyboard blasted out of speakers as the scents of chili, funnel cake, and other fair food drifted toward the undulating crowd. Welcome to the D.C. 101 Chili Cookoff, held on the grounds of RFK Stadium on May 21st.
The event, which was part music festival and part chili tasting opportunity, is annually sponsored by the D.C. 101 Radio Station to raise money for the National Kidney Foundation. This year's line up featured, in order of appearance, Middle Class Rut, Paper Tongues, Neon Trees, Panic! At the Disco, Papa Roach, Seether, and Weezer, which headlined the show.
Various personalities from the radio station made appearances, including Elliot Segal from Elliot in the Morning. Members of the D.C. United soccer team greeted the crowd as well.
Middle Class Rut kicked off the day of music at 11:40. The duo provided a metal influenced alternative rock sound and made up for its small size with big sound. Paper Tongues, a large seven piece band out of North Carolina, played an energetic set. A highlight was the song "Get Higher", which got the entire crowd singing along.
Neon Trees brought its own unique brand of rock 'n' roll and was most notable for the presence of a female drummer (the only non-male performer of the day). Panic! At the Disco brought down the house with hits such as "I Write Sins, Not Tragedies," "The Ballad of Mona Lisa," and "Nine in the Afternoon." After Brendon Urie, the group's frontman, encouraged the crowd to "get crazy," the crowd surfing and mosh pits grew even more frenzied. More than one young concert goer found themselves plunging to the ground after attempting to surf, but all seemed to enjoy nonetheless.
"I thought that all of the people were crazy with all of the crowd surfing and dancing," commented Taylor Nappi ('13). Nonetheless, she stated, "The bands were really good live."
Papa Roach and Seether performed well received sets, but the most anticipated performance of the night was that of Weezer. Many in the crowd of a couple thousands formed their fingers into the W emblematic of the band as a lit version rose on the stage. The band, led by singer Rivers Cuomo, played an hour long set with hits, including "Beverly Hills," that kept those gathered dancing along.
"I loved Weezer's grand finale and encore," said Jonathan Bagley ('13), another North Point student in attendance.
As the sun went down at 8pm and the band wrapped up, the concertgoers headed for the exit, satisfied after seeing great performances and contributing to a worthy cause.