Featured Fashion: Sam Corsey ('13)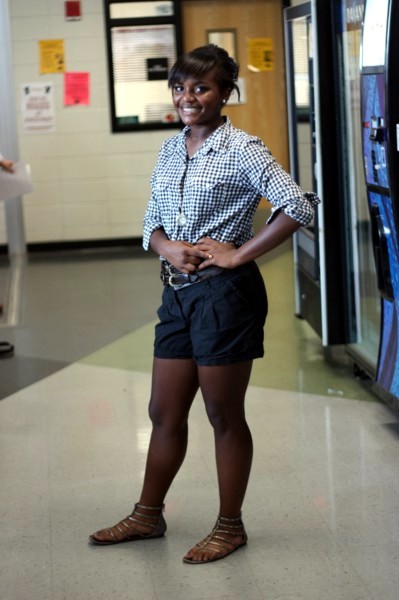 Tell us a bit about yourself.
"I'm a vegetarian and environmentalist. People call me a "tree hugger". I played JV soccer for two years and Varsity Lacrosse for two years. I am an optimist. My favorite thing to do is color, like with a coloring book. I have a ferret and I used to have a dog."
What is something nobody knows about you?
"Oh God! I write poetry…I have been writing for a while. I got some published in books. Also, I did Coffee House last year, which a lot of people didn't realize because it was in the spring."
"I don't really spend a lot of money on shirts. My biggest splurge is probably dresses if I can use them for different things. Jewelry too; I spend a lot on jewelry."
What is your favorite place to shop?
"Forever 21 – that is like the only place I go. I like Urban Outfitters as well."
What is your current favorite color?
"I have a different one each day. Today, it is tangerine orange."
What is your next 'must have' item?
"A necklace. No matter what, I always need to have one. I even stole one from my sister just so I could have it for an outfit."
What would you tell a student seeking fashion advice?
"Always play up your strengths and don't worry about size. If it looks good on you, then you should get it."
What do you think North Point fashion will be like in 20/20?
"I think the way we are going right now is back to past generations. I think we might go back to the 50's and 60's style. Hopefully we won't go back to the 2000's style."