Featured Fashion: Ashlee Latour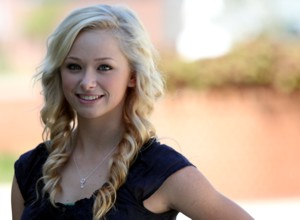 Tell us a bit about yourself.
"I like to do athletics, but I am also into fashion, art, and all that stuff-so I am a mixture of both. I play softball and I swim. I like to be up to date on things; I don't like to be left behind. I tend to care a lot about what other people think of me, which is sometimes a bad thing. I love to make up and hair- I'm like a girly girl. I am also smart."
Who made you first get interested in fashion and why is it important?
"My brother because he has so much going on.  I just want to be like him and have the next new thing and be so cute."
Describe your personal style and its influences/inspiration
"On my fashion, I would say my brother. In life, I like Taylor Swift."
 How do you describe the fashion scene in Waldorf compared to other major cities/fashion capitals?
"It is more skater. Compared to New York where there are high end stores like Gucci, Waldorf has more day to day fashions, just everyday clothes for going to school- sometimes dressing it up."
 If you were to travel to any fashion capital, which would it be?
"New York City. I don't really like cities, and I would not live there, but I would go there and visit. I am more of a 'country girl'."
 What can't you live without?
"That is a hard one. I could live without shoes, but not bags. I have to have bags. In my closet I have like ten bags, but I gave some to my sister. If you add all of those up then I have like 20 bags."
 What would you tell a student seeking fashion advice?
"Go with what you want. If you don't want to be a skater then don't go into PacSun. Just go with what you want to wear instead of what other people are wearing. Don't be too different to the point people are like, "Hmm", but just try to make it fun and new so people are like, "WOAH, look at her, she is so cute"."
 What do you think North Point fashion will be like in 20/20?
"I don't know, it is changing so much! I would say a lot of patterns and lots of colors."
 Where do you see yourself in five years?
"At a college I want to go to in Up State New York, in the country. I want to major in baking- Culinary Arts. I want to open a bakery."
 What is something about yourself that you would like others to know?
"I am fun and nice to be around. I don't judge people that much. I am really open to people."