Fanciful Doorways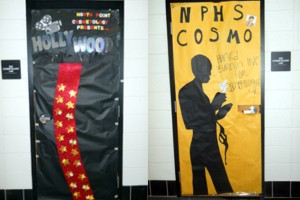 There are many traditions for Homecoming, such as face painting and huge school spirit, but the most decorative tradition is the Door Decorating Contest. Every year multiple groups, clubs, and sports teams decorate the entrance to a classroom to show off their North Point pride.
This year's homecoming theme was Hollywood. Many participants in to competition let their imaginations run wild on their doors. From jumbo size cameras, to life size eagles and lights, all the doors incorporated the theme of Homecoming in very different ways.
Students and staff enjoy decorating the door, but many students also like just looking at the doors. It [the contest] shows how people, like sports teams, aren't just about sports, they're also about school spirit," said Raven Womack ('14). Many students walk past the doors, smile and get "hyped up" for the homecoming game.
The doors were rated by a secret judge selected by the Student Government Association. The criteria for winning doors was creativity, involvement of students, reflection of North Point spirit, and incorporating the Homecoming theme. "The judge also wants to see if they had fun with the door and if it makes people smile," said Ms. Huffman, the SGA Advisor.
The winning door of the Door Decorating Contest, as announced at the Pep Rally, was Cosmetology. According to Charyte Edison ('12), "We wanted to do something that incorporated our entire class and showed that we all shine."