Featured Fashion: Craig Prather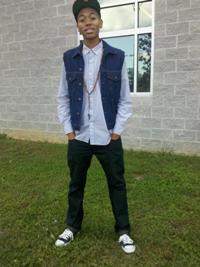 Craig Prather ('13) is a talented athlete, high scholar, and, to some, is considered an icon of fashion. Whether noticed because of his height (standing at around 6 foot 3 inches) or because of his unique style, it is easy to notice Craig around school.
1. Tell us a bit about yourself.
"I'm a junior, and the class secretary.  I play basketball and run cross-country.  And I model."
2. How would you describe your style?
"Different and unique."
3.  Would you call yourself fashionable? Why?
"Yes, because I like dressing up."
4.  Where do you find inspiration?
"From models, actors, Kappa Alphas, and Wiz Khalifa."
5.  How long does it take you to get ready?
"Fifteen to twenty minutes."
6.  What do you do for your hair?
"Keep it picked frequently, boxed, and dyed."
7. Do you like to shop? If so, where?
"Yes, Urban Outfitters, H&M, and 21 for Men."
8. When shopping, what is your guilty pleasure?
"Buying things I've already purchased."
9.  If someone asked you for fashion advice, what would you tell them?
"Be yourself, be different, and have your own sense of style."
10.  What do you see in fashion in the future?
"Probably more competitive. Better."