Coming Attractions: 'Tis the Season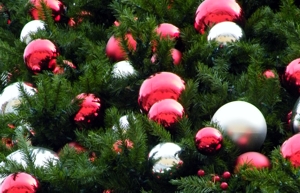 'Tis the season to be jolly and 'tis the season for a seemingly endless amount of holiday themed shows, movies, and events. The Eagle Eye is getting into the spirit as well. Here are some upcoming events in the Washington area for your holiday-time enjoyment.
Live Music
Located in Bethesda, this performing arts center is hosting The Washington Chorus, which will present A Candlelight Christmas on December 21st. Tickets are $20 to $69 and are nearly sold out.
Also at the Strathmore, the National Philharmonic will play a Holiday Celebration  on December 22nd with Washington Symphonic Brass. Tickets are free for visitors under 17. Otherwise, they run from $25 to $40.
Film
If classical music isn't your cup of tea, the Holiday season is always an interesting time to go to the movie theater.
Arthur Christmas
This movie rests on a premise that has probably floated through the minds of many: what happens when Santa skips one child out of hundreds of millions?  This film, which stars Hugh Laurie (of House fame) and James McAvoy, is now playing.
War Horse
Steven Spielberg's newest epic takes place in rural England during World War II. A horse is separated from the boy who raised him, and the film follows the horse's journey through war and traces the lives that it touched. War Horse opens Christmas Day.
New Year's Eve
A seeming carbon copy of Valentine's Day, though with fewer hearts and more confetti, this movie is jammed packed with a diverse assortment famous and semi-famous actors. Among them are Halle Berry, Jon Bon Jovi, Robert de Niro, and Ludacris. Critics are not fans of this effort. Indeed, Rolling Stone called it a "crap fest" and "bad beyond belief." It seems that celebrity quantity does not equate to film quality. If you are planning on seeing New Year's Eve, however, it is now playing.
Theater
The perennial favorite A Christmas Carol is being staged at Ford's Theater in D.C.  until December 31 with shows at 2 pm and 7:30pm. Tickets are pricey at around $41, but the Holidays are a perfect time for your wealthy distant relatives to pay for a special treat.
Ring in the New Year
Lastly, for those looking for a good time on New Year's Eve, First Night Alexandria is an event set to boast many performances, food, and other entertainment on December 31st. Tickets are $15.