Portlandia Pays Tribute to the Hipster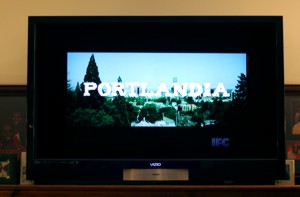 The word hipster conjures many images: fedoras, plaid shirts, skinny jeans, and oh-so-ironic cardigans that seem to come straight from Mr. Rogers' closet. Over the past few years, hipsters have taken American culture by storm, being both celebrated and criticized. More than anything, though, they have been lampooned, caricatured for what people perceive as their faults: liking something only when it's cool to do so, cataloging every moment of life on Tumblr and Instagram, and almost competing to have a more obscure favorite band. On Portlandia, a television show that recently premiered for its second season on the Independent Film Channel, the hipster culture of Portland, Oregon is gently mocked.
Portlandia stars Fred Armisen, most famous for playing President Obama on Saturday Night Live, and Carrie Brownstein, the lead singer of a few famous all female rock bands. The show follows a sketch format, with several short segments taking place over thirty minutes. Browstein and Armisen may have their names in bold print in the opening credits, but the real star of the show is Portland and its unique citizens. In the real world, the city is known as a haven for artsy people who don't enjoy being in the mainstream. On the show, this stereotype is kicked up several notches.
The season premier is a case in point. The opening shot lingers on the words, "Keep Portland Weird" spraypainted onto a brick wall. From there, Armisen and Brownstein play two friends, Dave and Cath, who are going rafting down a river. "Where's the camera?" Cath asks, realizing that they cannot document their adventure. "What's the point without it?" she continues. As other people float down the river, Dave and Cath harass them, demanding that they get out of "their space."
The best sketch in the episode placed Armisen and Brownstein in a restaurant called Around the World in 80 Places, where the simple act of ordering turned into a long ordeal through an endless assortment of specials. "Would you like to double down?" the waiter asked. "I'm not familiar with that terminology," Armisen replied sheepishly. "It's double the food for double the price." "So it's like ordering two? We could just share." "There's no sharing here. There are cameras," said the waiter. Hipsters, you see, are very particular about things like this.
Portlandia's dry wit is irresistible, as is the chemistry between the leading actors. Very close friends in real life, Armisen and Brownstein exude warmth. Another factor working in the show's favor is its focus on making fun of Portland's culture lovingly, in the same way that best friends can jokingly insult one another. In the era of Tosh 2.0 and blogs like PeopleofWalmart.com, humor is often mean spirited and uncomfortable to watch. Portlandia is welcoming, like an old friend. This begs the question: is Portlandia satirizing hipster culture, or paying tribute to it?
Portlandia airs Fridays at 10:00 on the Independent Film Channel .