Art That's Easy on the Eyes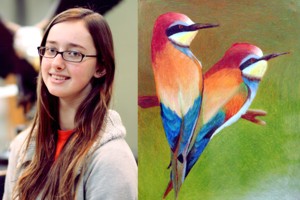 Keely Hollyfield ('14), an emerging artist, has works that are standouts amongst her peers- not just locally, but nationally. Her realistic artwork is a product of hours of hard work.
Hollyfield was introduced to art as a youngster. Her mother is a skillful artist, who had her create little art projects. By seventh and eighth grade, she truly began to harvest her skills. Lucky to land with a great art teacher, she ventured to new aspects of art in depth and explored different mediums. Since then, she has received a Letter of Commendation from Martin O'Malley, the Governor of Maryland, along with various accolades. Per Dr. Alo, "She does a really good job and puts in a lot of time outside of class."
One of her recent artworks depicts two vibrantly colored birds perched on a tree branch. Created with oil pastel and captured with vivid detail, the piece glows with a positive aura. It caught the eyes of National Art Educators Association, who chose it to display on 6th avenue in New York City during their convention. Exhibited on 30×16 foot screen on March 2nd and 3rd, the masterpiece will be on slideshow as one of the best artworks from across the nation.
A loose sketch commences Hollyfield's artistic process; little by little, she adds color. Next, the depth is enhanced with more rich and full shades and tints. Small details finish off the master piece. She heeds the help of the teacher and fellow classmates to get down the reflections and tiny details. "When I am finished, I feel really accomplished for about five seconds. There is nothing that can't get better without some improvement," she expressed.
Though she is certain perfection is a myth, she still believes if you can get it to be as close to perfect as possible then that would be your greatest achievement. "She is very critical of herself which works for her and hare method. She produces very good compositions," said Dr. Alo.
The Art teachers Dr. Alo and Ms. Fair are some of Hollyfield's biggest influences. "Dr. Alo is the one who taught me what to do," she said, while Ms. Fair taught her to be direct and not to approach art timidly.
Personally, she would like her work to inspire others, "I want them to look at it and just say 'WOW' because I worked really hard on it," she said. For now, Hollyfield wants to draw a bird that symbolizes each member of her family. In the future, she hopes to continue enriching herself with art classes- creating better artwork than she ever has before.