In Concert, Choir Takes a Trip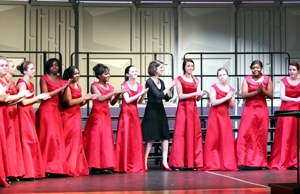 Singing and enjoying all the fine and rich experiences of travel, the choir ended the year with an exciting and entertaining concert on Wednesday, May 2nd. Igniting the audience with enthusiasm and passion, the choir also had help from fellow orchestra and band members on and off stage. "I had a great time singing with my fellow choir members because we make it fun for each other," explained an Eagles in Harmony member, Bobbi Jones ('13) with warmth.
Men's Choir, Women's Choir, Concert Choir, Festival Concert Choir, Chamber Choir, and Eagles in Harmony all gave remarkable performances, surprising the crowd with the choirs' theme Come Travel With Me. "I liked the songs Mrs. Helming chose for our choir, they were enjoyable to sing," said Tori Nguyen ('15), a member of Women's Choir. The songs were in many languages from Russian to Gibberish. They were spirituals as well as folk songs.
Lawry Denyer, Vanessa Garner, Kelsey Stewart, and Samantha Corsey each did well on their solos in the song Why We Sing by Greg Gilpin. They kept their heads held high and sung with pride and charm as they approached the crowd.
The choirs kept the audience involved with the variety of songs. The women of all the choirs sang a song, Adiemus, in the audience, which created a different mood and experience for audience members. The songs also varied from rhythmic songs with body movements to slow, meaningful songs, such as The Famine Song, which described the emotions of people during a famine and the hope that comes with rain.
Linking all the Choirs together, Ms. Helming chose songs Like An Eagle by Carl Strommen and Why We Sing by Greg Gilpin to tie the knot on the last concert of the school year.