In the Studio: Dr. Alo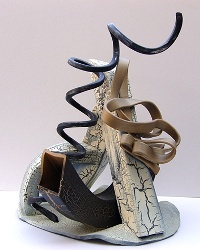 Her hand moves fluidly across the clay, molding it into the perfect shape. She stands up to put her project into the kiln and one of her students calls to her. "Dr. Alo? I need help with this."
Dr. Alo has taught at North Point for eight years.  Prior to teaching at North Point, she worked at McDonough High School for sixteen years.
"It's definitely different," Dr. Alo commented, "but the block scheduling definitely makes it a lot easier for art classes." Dr. Alo has worked very hard in her college and teaching profession.  She majored in ceramic art and printmaking, and minored in education. "I was forced to take pottery in high school and I ended up loving it," Dr. Alo recalled.
Dr. Alo has had artwork featured in several galleries located in BWI Airport, Texas Tea Pot Art Show, The Art Institute and Gallery, Mattawoman Creek Art Center, and the new library in Waldorf.  She has also had articles published in Arts Magazine featuring North Point students.
But when it comes down to it, Dr. Alo just enjoys teaching her students how to use clay and draw 2D art.  She is there to help. "She really cares about how we are doing in her class," Asia Costen ('15) commented. "I want to be a graphic artist and her class helps me to get a greater view on art."
"[Dr. Alo] likes to have our art go beyond the classroom, beyond school.  So that way it's more than "'art class,' it's a life style," stated Roberta McCord ('15).
[imagebrowser id=157]