Ladies of the Dance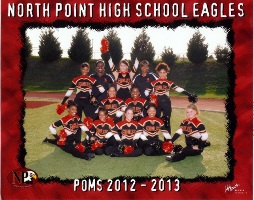 They perform at football games and dazzle the field with their outfits and pom-poms, but do not mistake these ladies as cheerleaders. Instead of cheering, the Poms team is all about dancing. Although they might just seem like glamorous divas, being a Poms dancer requires hard work and dedication, just like any other sport here at North Point.
The fall season for Poms has been successful. According to senior Danielle Stone, the dancers have improved in the last couple of years. "A lot of people said we are much better then how we were before. I think it is because we added harder things," explained Stone. The squad feels that perfecting the more challenging moves will increase their talent. Poms might not have SMAC or regional competitions, but the team does compete against other schools in the Winter. In the past, the girls have won a good amount of first place prizes against Division 2 schools. This year they will be going against Division 1  schools for a better challenge.
Mrs. Alleyne and Ms. Neff are the coaches of the Poms squad. They are described as winners and believe in pushing the girls hard so they can perform well. The coaches believe in the team and know that they can live up to their expectations. Their strictness pays off in the end. "They push us until we cannot be pushed anymore," stated Destiny Berthaud ('13).
Ashlei Randolph ('13) is the captain of the Poms team, while Stone is the co-captain. Together they choreograph the majority of the routines. They also receive help from their teammates and even the coaches.
A strong bond is shared between the girls. Being on the team has made them connect like a family. Stone said. "I love how close we are. We are a true family. It is amazing to see how well so many different people can come together and get something done. We all pull together to come up with a million awesome routines for every home game. We could not all do that if we did not love each other like we do." Getting along is an important thing when it comes to this team. If they did not get along, then working together would be a difficult task, but they have no problem in that area.
Along with hard work and dedication, technique and style play a big part of being a Poms dancer. This is a sport that these girls do not take lightly. They are clearly striving to be the best and expect nothing less.