Joy Movie Review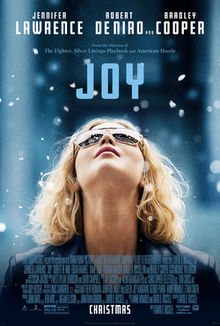 "Joy" was excellent take on the typical "rags to riches" story. The story is a loose portrayal of Joy Mangano's (inventor of the miracle mop and huggable hangers) life. The movie stars Jennifer Lawrence as Joy, Bradley Cooper as Neil Walker and Robert De Niro as Rudy Mangano.
Joy is a single mother of two living with her divorced mother and father and her ex husband. She has always been an inventor of sorts, but life tended to get in the way of her dreams. Encouraged by her grandmother to keep reaching for her dreams she invents the miracle mop, the first of its kind.
The basis of this story is not completely original but it is portrayed in a unique, realistic way. This movie is one of survival; realistic in the way that it teaches viewers the lesson: people don't always succeed. Jennifer Lawrence's character Joy was an admirable, strong, character because she didn't give up no matter what was thrown at her. Her strong support system was refreshing and added warmth to the story.
I would recommend to see this story because it is not only inspiring, it is down to earth. "Joy" is a true story of climbing to the top from nothing is amazing and excellently portrayed through the characters that played in the movie and the plot.