Of Art and Aspirations: Catera Dorsey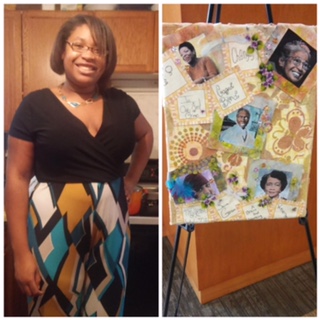 Full of character, creativity and ambition, Catera Dorsey (16') plans to carry on doing what she loves best, even after high school. From ceramics to painting, Dorsey has become very familiar with all sorts of mediums ever since she first decided to take up art. To prove her passion for the subject, Dorsey has committed her senior year to focus on honing her craft and creativity. Moreover, she challenges herself everyday keeping up with the latest projects in her painting, ceramics, photography, and A.P. (advanced placement) studio art classes. "When I first attempted to draw, no one specifically inspired me. I pretty much just started drawing one day on my own and then I fell in love with it," expressed Dorsey.
In addition to her busy schedule, the senior student also seized the opportunity to shadow art teachers at Davis Middle School. "When I applied to intern at Davis, I figured I was determined to engage in art as a possible career field, so I thought becoming an assistant art teacher would be a good place to start. Since I'm still a student, I can relate with the younger kids that I help teach, but I also get to witness the teacher's perspective in doing things," shared Dorsey.
As far as her future goals are concerned, Dorsey wishes to obtain a teaching certificate to one-day share her passion and inspire future students. "Even though my interest in art just clicked on its own, I hope I can inspire upcoming students and people in general to become more creative," Dorsey added. Looking forward to the tomorrow after high school, Dorsey doesn't plan to change her mind on her interests. For her, art is the pinnacle of her hobbies, her accomplishments, and her future occupation.