Met Gala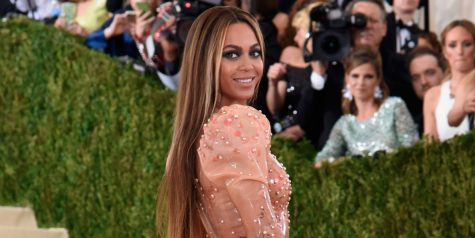 The Met Gala, or formally called the Costume Institute Gala or Met Ball, is an annual fundraising gala for the benefit of the Metropolitan Museum of Art's Costume Institute in New York City. Celebrities and well-known names in the fashion industry from all over the world gather on this night to make a memorable fashion impression. "I enjoy looking at Met Gala fashion. Celebrities have such a huge impact on their fans and for fans to see them happy and smiling at a social event. I think it's pretty cool. I would love to attend one when I'm older," said Deonna Young (17').
This year's Met Gala was held on May 2. The theme was Manus X Machina : Fashion in the Age Of Technology. It's not crucial to dress according to theme, but it's highly appreciated if guests do. Celebrities took to social media to post pictures and videos of the party for fans to see how special the event was.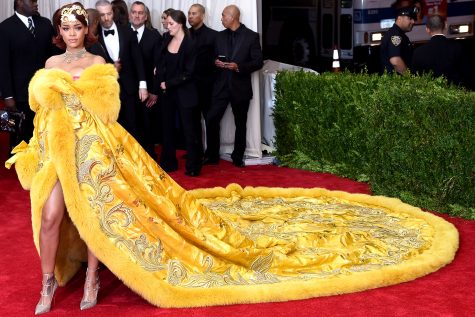 At last year's Met Gala, singer Rhianna won best dress. Guests seemed to take the easy way out, wearing simple red dresses and flaming silhouettes following the theme China: Through The Looking Glass. She completely turned heads on her arrival. Everyone was speechless. Rhianna appeared in an imperial yellow, fur-trimmed cap with layers of ancient Chinese designs. "I'm so in love with this dress, but the train is insane," said Rhianna to Vanity Fair. Rhianna's dress was handmade by Guo Peu, a famous Chinese designer, which took two years for her to make.
Back to this year's Met Gala, celebrities like Lupita Nyong'o, singers like Beyonce, and models like Candice Swanepoel, all attended in show stopping costumes and gowns. But the one person who stole the show was Claire Danes', glow-in-the-dark, custom Zac Posen sky-blue ball gown. Like last year's Rhianna, Claire Danes up-staged the red carpet robot army. Zac Posen,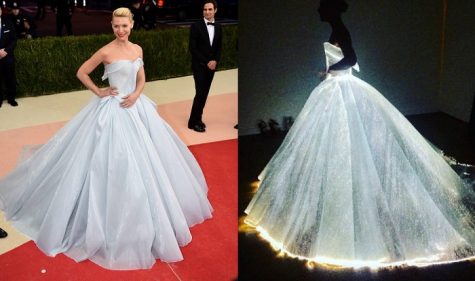 who is friends with Danes, created the dress from organza and fiber optics, which allowed the dress to light up in the dark. "Zac literally had a bus for me to get here, so I stood," said Danes to Vanity Fair.
Once the event is over preparations for the next year begins right away. Anna Wintour, Vogue editor-in-chief, and a chair of the event has already started the guest list and plans for an even better Met Gala next year.