Finding Dory Coming Soon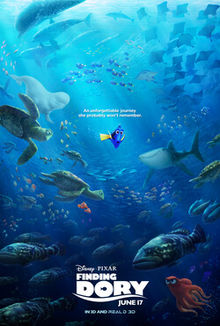 Get ready for this new collaboration between Disney and Pixar that is sure to be the hit of the summer. Due to release June 17th in 3D, Finding Dory looks promising. In sort of a spin off/sequel to the 2003 movie Finding Nemo, Dory will be the one searching for her family in this movie. Given the summary, "The friendly-but-forgetful blue tang fish reunites with her loved ones, and everyone learns a few things about the real meaning of family along the way", by IMBD, there is no way this won't be the family friendly animation of the summer.
In the movie, viewers will get to revisit all of their favorite characters, and new ones they're sure to love. Just from watching the preview, viewers can already tell that this movie is going to be hysterical, while at the same time pulling on some heart strings.
Another reason this movie is sure to be a hit, just as Finding Nemo was, is that it's being directed by the same director, Andrew Stanton. Also, the main characters will be voiced by the same actors in the original, with Ellen DeGeneres voicing Dory and Albert Brooks voicing Marlin.
Finding Nemo created a huge fan base, most of whom cannot wait to see Finding Dory. When asked if he was going to see Finding Dory, Brandon Fewell ('16) said, "Of course I plan on seeing it. Finding Nemo is one of my favorite Pixar movies. So after thirteen years of waiting, of course I want to go see the sequel."
Don't miss out on all the fun; go see Finding Dory on June 17th.