Diving Into Captain Sully's Daring Plunge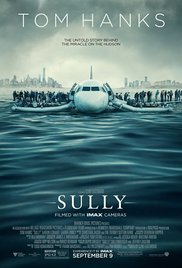 In Clint Eastwood's new film, Sully, Tom Hanks recreates Captain Sullenberger's water-landing into the Hudson River in January of 2009. Rated PG-13 and running about 96 minutes, the movie goes into the details about what happened after the crash, and the impacts it had on Sully.
While the plot does focus on the aftermath, it also goes back to what happened on January 15, 2009 and what caused the plane to go down. This may be a bit confusing to some audience members, though, because the movie switches between the present and flashbacks sporadically, and it took a little while to catch onto the fact that the timeline had changed. Overall, however, the film takes place during the investigation done on Captain Sullenberger and why he chose to land the plane in the Hudson as opposed to turning back and landing it at LaGuardia Airport, where it had departed from. The question most asked was if landing in the Hudson River was the best option or if it endangered the passengers and crew on board.
What may fascinate some viewers is that the movie doesn't just focus on exactly what happens. Throughout the film, the impacts that the events had on Sully's mental health were portrayed and spotlighted, showing how he often had nightmares about how it could've gone wrong and flashbacks to the crash itself. Tom Hanks does a marvelous job of showing the emotions running through the pilot's head and the stress he went through during the investigation. Chelsey Sullenberger, himself, even stated that he was impressed by how well Hanks caught him.
Sullenberger wasn't the only one who enjoyed Hanks' performance. During its U.S. opening weekend, Sully made a total of $35,028,301 and was rated 74/100 by Metascore, categorized as a Biography/Drama. It does have scenes of intense peril and brief strong language, but Sully is a must-see, and is sure to please many audiences, so definitely make plans to see it!