Dave Chappelle Returns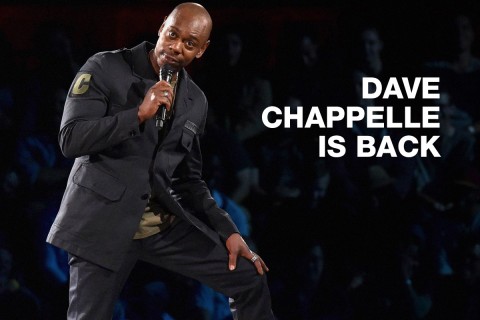 Hang on for a minute...we're trying to find some more stories you might like.
Comedian Dave Chappelle returns to television and celebrates by releasing two Netflix standup specials. Tuesday marked the release of "The Age of Spin: Dave Chappelle Live At the Hollywood Palladium" and "Deep In The Heart Of Texas: Live At Austin City Limits" on Netflix as part of a deal reportedly worth $60 million. A third special will be released at a later date. Chappelle accepted Netflix's proposition of $60 million over the $50 million he was offered to continue Chappelle's Show in 2004. Both Netflix specials open in black and white with voiceover narration from Morgan Freeman, followed by an animated burst of a montage hinting at the topics to come at you over the next hour. Joel Mulbah (12th) says, "I was surprised to learn that someone would deny a $50 million deal but having him come back for more money but this time more comfortably is much better."
Dave Chappelle starts by telling the audience at the Hollywood Palladium that it has been 10 years since he played a show in Los Angeles. Chappelle describes what happened while he was away having made national news in 2015. He mocks the TMZ headline of a show, "Dave Chappelle Drunk on Stage in Detroit, Booed off Stage," yet Chappelle notes that he was booed but did not leave. In these stand-up comedy specials, Dave Chappelle speaks about what is on his mind and his opinions on current events, Bill Cosby and Donald Trump. During this time, Chappelle was working out his stand-up comedy once again with his own spin. Jackoby Wilson (12th) says, "I'm really glad to see Dave Chappelle come back strongly and with a good reaction from viewers." Chappelle is both storyteller and an accomplished comedian where the audience is always on edge waiting for the inevitable punchline after he starts. Critics and audience members alike agree that after so many years, Dave Chappelle is definitely back.