Snapchat Runs Offensive Rihanna Ad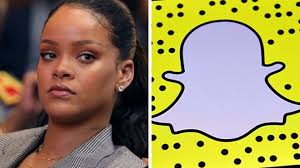 Hang on for a minute...we're trying to find some more stories you might like.
Recently, Snapchat has been in hot water. In February, the social media account released an update that caused much controversy related to the apps's interface. Now, it is facing trouble after a controversial ad for the mobile game "Would You Rather."
In the ad, it gives people 2 options: would you rather slap Rihanna or punch Chris Brown? Singer Chris Brown pleaded guilty in 2009 for beating Rihanna during an argument while they were dating. Rihanna released a statement calling out Snapchat for the insensitive ad on her Instagram page, saying, "Now SNAPCHAT I know you already know you ain't my fav app out there! But I'm just trying to figure out what the point was with this mess! I'd love to call it ignorance but I know you ain't that dumb. You spent money to animate something that would intentionally bring shame to DV victims and made a joke of it." Snapchat also issued a statement themselves: "We are investigating how that happened so that we can make sure it never happens again," the company said. This incident caused Snapchat's stock to go down 4%. This made the market value go down by $800 million. Snapchat's market value had already gone down $1.3 billion after Kylie Jenner released a statement a couple of weeks ago criticizing the new interface. "I think Snapchat should compensate Rihanna for what they did to her," expressed sophomore Clifton Crosby. Snapchat has now blocked "Would You Rather" from making any more advertisements on the app. "I just feel so bad for Rihanna. What they did was terrible," said freshman Lianys Sousa.
The first quarter of this year has not been good for the popular social media app, and it hasn't even ended yet.