Recognizing North Point Once Again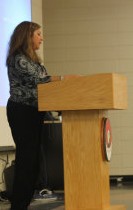 On Thursday, October 29th, 2015, a ceremony was held in the staff development room on behalf of the National Oceanographic and Atmospheric Administration (NOAA). Students and staff were informed that Mallows Bay in Charles County has been nominated to become a national marine life sanctuary and the efforts made by the environmental clubs at North Point have allowed our school to be given another NOAA grant and be declared a Year 1 Ocean Guardian School.
Among the guests at the ceremony were Kim Hernandez and Sammy Orlando. Hernandez works with the Maryland Department of Natural Resources and was sharing her point of view on the environment. She stated that it is important for students to get outside in order to be able to see and learn about nature and gain an appreciation for the environment. Sammy Orlando also had strong beliefs about the importance of our environment and getting more students to understand the value in experiencing surroundings firsthand. Since he was young, he's "always had a draw to/connection to the Chesapeake Bay [where Mallows Bay is located]." Orlando wanted to make sure that he could do what he could to ensure that others have the same exposure to nature as he did. He hopes students "form a personal connection to their watershed and their local river so that they become engraved with a value to protect what's important to them."
Through the designation of Mallows Bay, everyone involved with NOAA and supporting it want to create more programs like Ocean Guardian Schools and give more students the chance to learn about where they live and give back to their environment. To join the NOAA program at North Point, go to Ms. Kiorpes' room (2317) on Tuesdays during the first half of NEST or email her at [email protected].