Brussels Airport and Metro Station Attacked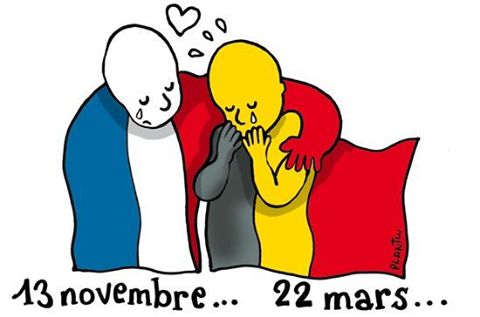 At about 7:00am GMT on March 22, which is around 3:00am EST, an airport and metro station in Brussels, Belgium was bombed. The airport's name was Zaventem Airport. Two bomb packages went off in the departure hall of Brussels airport; one was close to the SN Brussels Airlines desk and another near the American Airlines desk. Police suspect that at least one of the twin blasts that hit the airport was a suicide bombing. There are also reports of shots being fired by the American airlines desk right before the explosion.
Sky News journalist Alex Rossi was at the airport when the blasts occurred. He said he heard two "very, very loud explosions". Rossi described the aftermath of the explosions by saying, "I could feel the building move. There was also dust and smoke as well."
Another explosion struck Maelbeek metro station an hour later. A three-carriage train was just leaving the station in the direction of Arts-Loi, the next stop a short distance away, when the blast happened. The bomb was apparently detonated in the middle carriage. As of now, there are 35 confirmed deaths and over 300 injuries from both of the attacks.
The Belgian government raised the terror alert level to 4 across the country, the highest level. The country was already on a high terror level due to a shootout last week in the Brussels suburb of Molenbeek where Salah Abdeslam, the main fugitive in the Paris attacks, was seized.
There are many videos on the attacks and comments from people wishing luck to the people of Brussels and their families including a message from Barack Obama saying, "We can and we will defeat those who threaten the safety and security of people all around the world." A popular picture is going around right now where France is depicted supporting Belgium through this crisis.
When student Ally Dickt ('17) was asked what she thought when she learned of the attacks she said, "It was unfortunate, but not unexpected." She then added, "I feel sorry for them." Dickt had been following the story like the rest of us, so when she was asked how to prevent something like this from ever happening again, she answered the best she could. Dickt said that there was not much else to be done; maybe there could be better screenings for terrorists. Overall, everyone is just mourning for Belgium and its people. Belgium, you have the hearts of the American people and they pray for your safety.